Marie-Theres Mund has turned her hobby into a career in Limlingerode in the southern Harz mountains in Germany. She serves up the best cakes in the area in a former farmhouse. Set up as part of a succession project, "Ländliche Kaffeestuben" was the state champion for Thuringia in the KfW Entrepreneurs' Award 2018.
Ländliche Kaffeestuben
Marie-Theres Mund and her mum bake up to 25 cakes a day to bring a smile to their guests' faces. KfW Group/n-tv. This video is only available in German.
Black Forest gateau, strawberry and sour cream cake, Swedish apple cake, raspberry and mascarpone cake, a castle cake... The display cabinet has everything cake lovers could want and more. Marie-Theres Mund patiently lists the array of sweet treats on offer while also keeping one eye on the door. As usual, there is a long waiting list today and the task of making sure all guests have somewhere to sit in the four cosy rooms is a logistical challenge. And if there are any Christmas parties, coach tours or wedding parties booked into the large extra room then service calls for maximum concentration.
Not many people come across this village and its 250 residents by chance. The café is known for miles around and a popular destination for both locals and tourists alike. Customers find more than just carefully prepared cakes here. The barn next door sells the ever-changing decorations used in the café. For anyone keen to stay longer, there is a holiday apartment available to rent upstairs.
Despite the fact the cake shop's owner is not afraid of a little experimentation, she relied on tried-and-tested methods when setting up the business. The café and its shop next door had been a huge success for 17 years when the owners wanted to give it up due to their age. Marie-Theres Mund, who lived just a few doors down the road, could not get the idea out of her head: "It was just a flight of fancy to begin with. After all, I had a secure job as a kindergarten teacher and I had become really fond of the children. And yet, I fell in love with the idea of having something for myself. My dad was really excited, but my mum was more skeptical. It's not like I had the money needed to buy the café in my piggy bank. And I wasn't sure if you could even get a big loan when you're 25 without any collateral."
It turns out her concerns were unfounded. She had no problems getting financing through Bürgschaftsbank, Kreissparkasse Nordhausen and KfW. The building was in good condition, the sales figures spoke for themselves, and the young entrepreneur was eager to stick to the successful concept. "Nevertheless, I still felt a bit queasy when I signed the contracts and suddenly became the woman in charge. The previous owners worked their final shift here on New Year's Eve 2015. Then, on 1 January 2016, I got the keys to my new empire," she remembers.
Read more under the image gallery.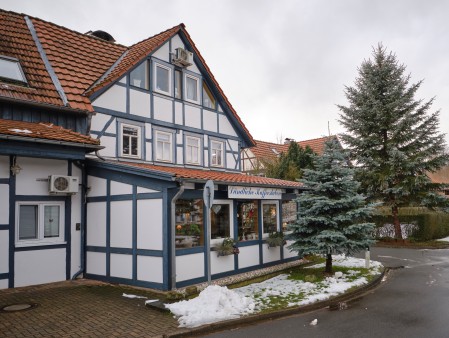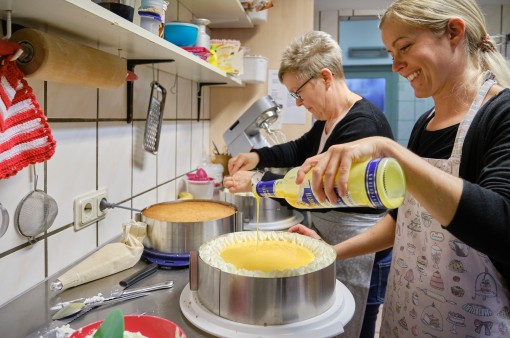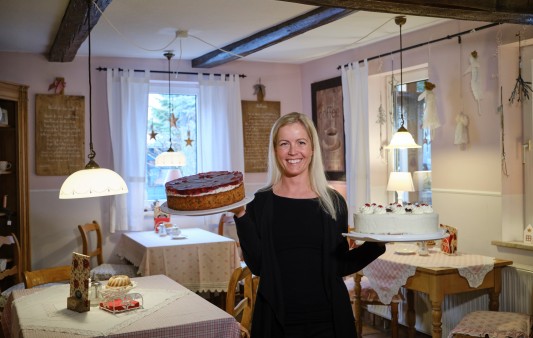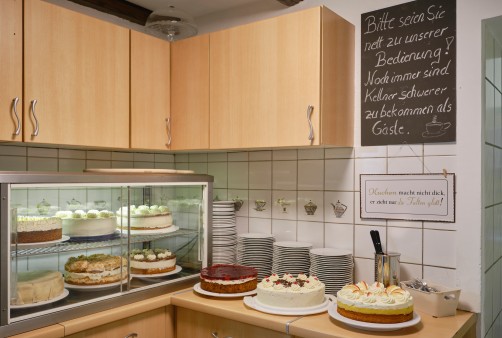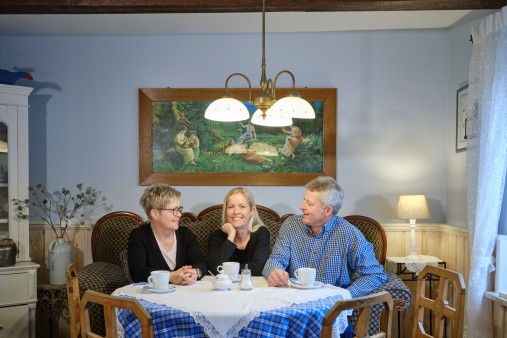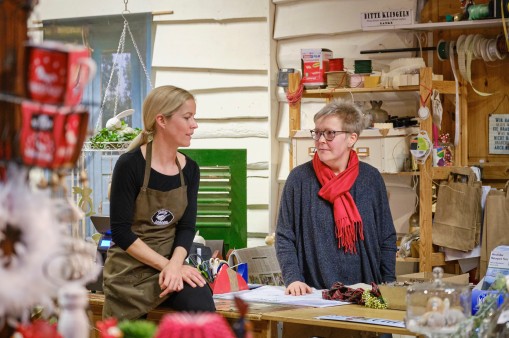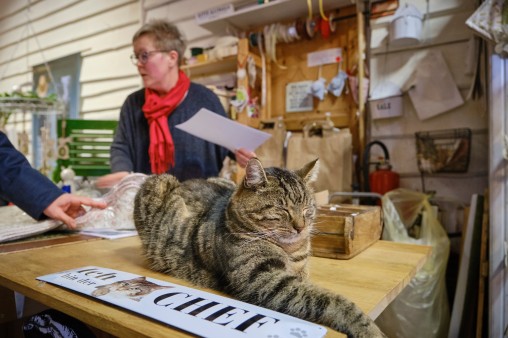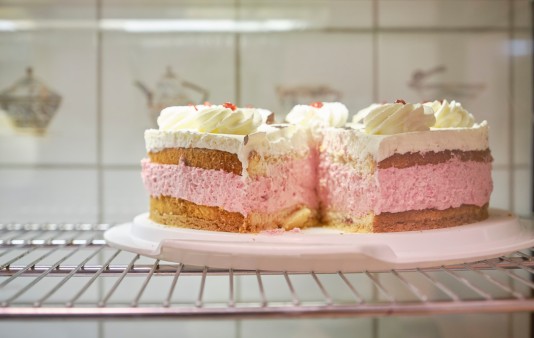 A building steeped in history
The farmhouse in the small village of Limlingerode in Thuringia, Germany, is almost 250 years old.
Since the new owner also took over the ten members of staff, guests barely noticed that anything had changed. She quickly got used to her new job, despite all the challenges. For instance, she is a lot younger than her staff and – for the amateur baker – it was difficult to get her head around the sheer amount of ingredients required. The café uses 360 eggs, 50 litres of cream and kilos and kilos of sugar every week. At the same time, Marie-Theres Mund soon became a pro in buying decorations. Slowly but surely, she has started bringing in her own style.
The entrepreneur comes from a very close family. Three generations live under the same roof and everyone mucks in. Her mum Andrea is a full-time employee while her dad supports the business on a part-time basis. And if the cake supply starts to run low, even her grandma helps with the baking.
"My decision was worth it. I would do it again in a heartbeat."
The day runs according to a strict schedule. Mornings start with mother and daughter working in the small kitchen as a well-oiled team. When customers start to arrive, Marie-Theres is in the café while her mother goes next to door to the timber-frame barn. "Then I take off my apron and turn into a sales woman," she says with a smile.
KfW Entrepreneurs' Award 2018
In October 2018, the KfW Entrepreneurs' Award (formerly known as GründerChampions (StartUp Champions)) recognised 16 state winners and one national winner for their business ideas.
Learn more
Even their cat Hannu slinks into the barn, ready for his favourite time of day to begin. With a majestic air, he settles down onto the table next to the till, where he allows himself to be tickled by all the customers. He is the only item in the barn that isn't for sale. Lamp shades, tablecloths, cushion covers, even a bed and fireplace: everything is for sale and can be taken straight home.
Things start to calm down around evening time. "We're only open between two and six, and we're closed completely on Mondays. No-one knows how much work goes into it all," says Marie-Theres Mund. She works around 70 hours a week. "There's the shopping, thinking about the cakes I'm going to make, what the café will look like... And of course, I think about all that during my free time, too. Despite all that, my decision was worth it. I would do it again in a heartbeat," she says with a smile, sending Hannu off on a mouse hunt and locking the door for the day.
Published on KfW Stories: Thursday, 21 February 2019