Long Beach, California has one of the largest ports in the world. Several dozen automated guided vehicles from Germany are used to transport containers. They are battery-powered and run without a driver. KfW supports this environment-friendly project.
It is like a scene from a science-fiction movie, almost spooky. Giant cuboid boxes on four wheels move across the port facility. They drive straight ahead, take turns, stop. There is no driver's cab, only the structural necessities, and most notably, there are no people far and wide. Dozens of vehicles steer purposefully towards the next crane at the edge of the quay as if by magic. Once there, they stop and wait until the containers are lowered onto their backs and then bring the freight to its storage area.
Here at Long Beach in California is what reality looks like at one of the largest ports in the world. Several dozen of these so-called automated guided vehicles – AGV for short – have been in use there for the past two years. By the end of the project, there will be 72 of them. The AGVs are not just driverless, they are also battery-powered and emission-free.
GREEN GIANT
Automated guided vehicles bring goods to their destination without drivers: impressions from Long Beach, California (KfW Group/MEHR+).
The Chinese logistics company Orient Overseas Container Line (OOCL) managed the change to the environmentally-friendly transporters. The AGVs are particularly well suited to the "green port" at Long Beach for two reasons: On the one hand, the US state of California has strict environmental laws. On the other hand, environmental responsibility is a core value of the port operator, OOCL. So the "green port" imposed CO2, nitrogen and particle emission restrictions on itself. The port has already received many awards for its commitment to environmental policies.
The technology behind the automated guided vehicles is unparalleled worldwide: the transporters can transport containers that are up to 70 tonnes and up to 45 feet long between the quay and the storage facility. They drive forwards, backwards, sideways. On straight sections, they achieve a speed of six metres per second (close to 22 kilometres per hour). Specially developed software and transponders placed in the floor of the port terminal ensure collision-free fleet control.
The battery weighs as much as a cargo helicopter
The vehicles' greatest achievement is found beneath the loading bed: the battery. At 11 tonnes, it weighs as much as a military cargo helicopter. It can be exchanged in just five minutes at the fully automated changing station. The lower power consumption of the battery is equivalent to that of three litres of diesel. Battery operation reduces pollutant emissions in the terminal and ensures less noise pollution. Another benefit is energy efficiency - it plays a critical role when energy requirements are as high as they are for port loading systems.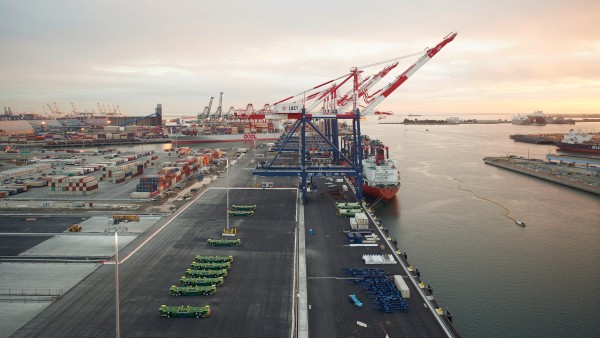 The AGVs are a prime example of cutting-edge technology from Germany. The manufacturer is a company from Düsseldorf Terex MHPS GmbH. KfW financed a total of 72 environment-friendly vehicles, including accessories, through its subsidiary, KfW IPEX-Bank. Patrick Joch, Vice President of Transport and Social Infrastructure at KfW IPEX-Bank: "With our financings, we provide an important impetus for German and European exporters." In 2014, financing agreements were signed with OOCL for USD 81 million. The objective is to create a highly modern container terminal with 3.3 million TEU of total capacity per year. One TEU (Twenty Foot Equivalent Unit) is equivalent to the size of a standard container.
"This is our premiere in the USA"
AGVs were already in use at large European ports like Rotterdam and Hamburg. At the Altenwerder terminal on the Elbe River, ten of the 86 automated vehicles are battery-operated. Delivering the AGVs to the USA is opening a new market for Terex. According to Dr Mathias Dobner,member of the Management Board at Terex MHPS GmbH, "This…marks the first time that we are exporting AGVs outside of Europe and is a premiere for us in the USA – this is our contribution to sustainable port logistics."
This step was made possible with support from KfW: "KfW IPEX-Bank is providing financing for equipment that we manufacture here in Düsseldorf. It is a key component of this environment-friendly, zero-emission project in California", said Dr Mathias Dobner. And Christian K. Murach, member of the Management Board at KfW IPEX-Bank, added, "With this finance for leading-edge German-made 'green' technology we are assisting a German port equipment producer in the key US growth market for the first time".
At the end of the 1980s, long before the Kyoto Protocol and electro-mobility, Terex was the first company in the world to develop automated transport vehicles. Today the company is the market leader. Terex MHPS has sold 650 of the fully automated vehicles over 20 years. The plant where the AGVs are manufactured has a long tradition of metalworking.
Since its founding in 1906, cranes have been produced here, from the largest lorry-mounted crane to the strongest crawler crane in the world. Today, 700 employees work at the plant. Cranes lift thick steel sheets through industrial warehouses for welding and cutting. A freshly painted AGV chassis stands in the hall for fully automated vehicles. The body is delivered in one piece, equipped with customised motors, undercarriage, hydraulics and electronics.
The "green port" is just one of many KfW projects that serve to protect the environment and climate. KfW also supports the purchase of commercially used electric, hybrid and fuel cell vehicles as well as lighter-weight vehicles powered by bio-methane and natural gas. The construction of charging stations for electric vehicles and refuelling systems for hydrogen can also be financed with this programme. KfW considers itself a strong partner for energy transition in Germany and throughout the world.
The described project contributes to the following United Nations' Sustainable Development Goals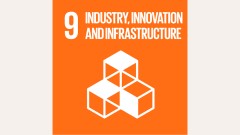 Goal 9: Build resilient infrastructure, promote sustainable industrialization and foster innovation
Non-existent or dilapidated infrastructure hinders economic efficiency and thus engenders poverty. When building infrastructure, the focus should be on sustainability, for example, by promoting environmentally-friendly means of transport. Factories and industrial facilities should also ensure that production is in line with ecological aspects to avoid unnecessary environmental pollution.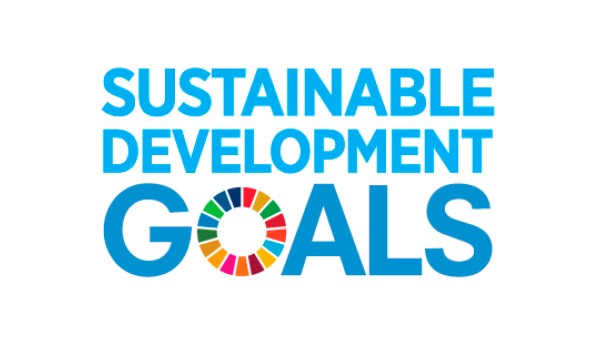 All United Nations member states adopted the 2030 Agenda in 2015. At its heart is a list of 17 goals for sustainable development, known as the Sustainable Development Goals (SDGs). Our world should become a place where people are able to live in peace with each other in ways that are ecologically compatible, socially just, and economically effective.
Published on KfW Stories : 17 March 2017, last updated 27 January 2017.