Industry 4.0 is the future. But digital networking also creates risks. Rhebo GmbH has developed a product that monitors digital systems in industrial environments and identifies, reports and documents anomalies.
"Rhebo" is an abbreviation of rhenium diboride, one of the hardest synthetically made metals there is. It might seem like an unusual name for an IT start-up, but "hardness" is an IT security term that refers to a process that makes information technology systems particularly resistant to attacks. And this is it, Rhebo offers: a product that ensures fault-free operation of networked industrial plants.
Rhebo Industrial Protector monitors operation of industrial control technology and critical IoT devices in real time, analysing and visualising overall data traffic. An example: despite reliable production in the welding robot cell in an automobile manufacturer's body construction section, Rhebo Industrial Protector recognised that there were abnormalities during communication. The analysis showed that two devices in the data collection system had the same IP addresses. This incorrect configuration led to malfunctioning communication between the affected stations.
If Rhebo had not pointed out this problem, the plant would have come to a standstill. Moreover, a duplicate IP address can indicate a masquerade attack, in which an attacker takes on the identity of a network participant.
For operators of automated production plants and critical infrastructure, using Rhebo Industrial Protector provides operational safety and protection against both internal and external cyber-attacks. The warning system prevents downtime and thus also reduces costs.
About the founders
Rhebo GmbH was founded in 2014 by Dr Frank Stummer, Klaus Mochalski (right) and Martin Menschner (not shown in this picture). Mochalski's business area is sales. Stummer works on building new fields of business. And Menschner heads up the development team as CTO and "technical mastermind". Kristin Preßler has taken care of marketing and operative management as COO since 2016.
Specialists for industrial IT security
Rhebo GmbH was founded by Klaus Mochalski, Martin Menschner and Dr Frank Stummer. They were old acquaintances in 2014, the year the company was founded. Mochalski and Stummer went to school together. All three had already founded IT and network security companies in various constellations and worked together.
The three combined their expertise and entrepreneurial spirit to create Rhebo: CEO Klaus Mochalski takes care of sales, Martin Menschner serves as CTO and spearheads the development team as the "technical mastermind", and VP Business Development Frank Stummer develops new fields of business. Kristin Preßler has been responsible for marketing and operative management since 2016 in her position as Rhebo's COO.
Many companies are not yet aware of the opportunities the mechanisms of Industry 4.0 can offer. In the past, factory security primarily concerned the factory gate and the fence around the premises – unauthorised persons could not get in. Things changed with digitalisation and the associated connectivity: now there are hacker attacks, computer worms and industrial espionage.
The start-up and the idea behind it became established early on in a market that is just beginning to grow. Rhebo was "at the right place at the right time with the right product", said business founder Klaus Mochalski. Feedback was positive from the beginning whether from investors, a continually growing number of customers, or in the form of various entrepreneur awards. In 2017, Rhebo's staff consisted of 19 employees. In, 2020 the company employs 25 people.
Start-up: a dream job
When Mochalski was still working as a researcher and lecturer, he was always open to new ideas. But starting a company was never one of his goals. Now, as an experienced entrepreneur, he says: "If I had known what it would feel like beforehand, I would have always dreamed of starting a company." It is the responsibility, the challenge of developing something new, and most of all, returning to the starting point time and again: thinking of a new idea together in a team and then discussing how we might be able to make it work. And then using that idea to ultimately develop a plan that leads the company to success.
That is the best feeling for an entrepreneur. In practice, this also means leaving firmly entrenched corporate structures behind. "I am firmly convinced that time has nothing to do with corporate productivity or success", says Mochalski. So there are no time clocks at Rhebo. Employees' family lives also benefit from this. But they did not just choose this work approach to support families, they did it for reasons of productivity. "Programmers cannot simply sit down and program for eight straight hours. If they did that, only nonsense would be the outcome."
All in all, Rhebo places emphasis on results. This also includes creative breaks that can be spent in the inspiring atmosphere of the office's neighbourhood. Rhebo is located in Leipzig in what used to be a cotton mill between artist studios and galleries. But one of the most important factors is the internal interaction between employees. It creates the vitality behind Rhebo's corporate culture. This interaction is also important "because the demands placed on our products are constantly developing further", says Mochalski.
Rhebo also maintains consistent communication with customers: Rhebo's industrial network monitoring is, in principle, a type of alarm system. If the alarm goes off, someone has to take action. However, customers often do not have a "someone" who can act. So before installing network monitoring, Rhebo always performs on-site stability and security audits to find existing security gaps and then works with customers to close them. For running operation, Rhebo also offers the ReadyNow managed service that supports customers during the process of evaluating anomalies.
Glory and honour are not enough
All of the awards that the young company has already won hang on one wall of the Rhebo company premises. It won the IQ Innovationspreis von Leipzig sowie von Mitteldeutschland (IQ innovation award from Leipzig and from Central Germany), came second in the futureSAX Ideenwettbewerb 2016 (futureSAX competition to invite ideas), was the state winner from Saxony in the nationwide KfW Entrepreneurs' Award 2016 corporate competition, was the state champion from Saxony for the INNOVATIONSPREIS-IT 2017 (IT innovation award) and was nominated for the "Sachsen gründet – Start-up 2017" ("Saxony incorporates – start-up award) special award.
Quelle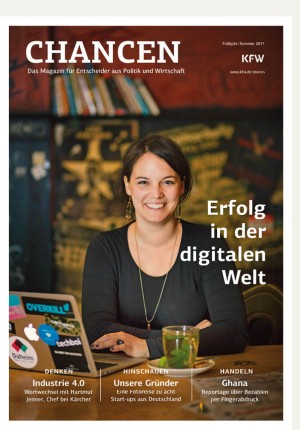 Rhebo GmbH is part of the "Our entrepreneurs" photo gallery in the Spring/Summer 2017 CHANCEN magazine entitled "Success in the digital world".
See the issue
There isn't much space left on Rhebo's wall for more awards. As tempting as it is to be invited to participate in new competitions, it takes up time. Now Rhebo's business founders want to concentrate on the business and tap into new markets.
Published on KfW stories on 13 July 2017, updated on 3 April 2020.
The described project contributes to the following United Nations' Sustainable Development Goals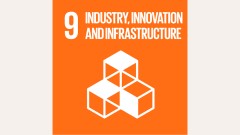 Goal 9: Build resilient infrastructure, promote sustainable industrialization and foster innovation
Non-existent or dilapidated infrastructure hinders economic efficiency and thus engenders poverty. When building infrastructure, the focus should be on sustainability, for example, by promoting environmentally-friendly means of transport. Factories and industrial facilities should also ensure that production is in line with ecological aspects to avoid unnecessary environmental pollution.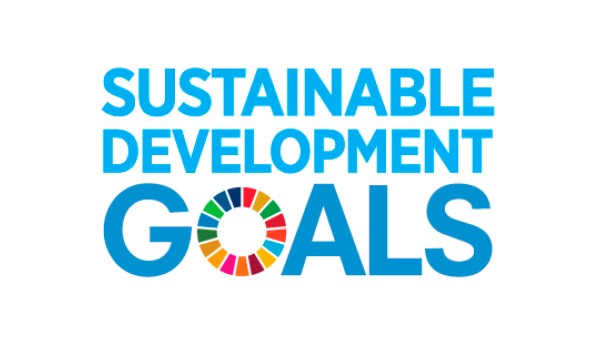 All United Nations member states adopted the 2030 Agenda in 2015. At its heart is a list of 17 goals for sustainable development, known as the Sustainable Development Goals (SDGs). Our world should become a place where people are able to live in peace with each other in ways that are ecologically compatible, socially just, and economically effective.