Dominik Heil made his childhood dream come true and today runs a café in a prime location in Saarbrücken, Germany. The restrictions to contain the coronavirus epidemic hit the small company owned by the passionate ice cream maker hard at the beginning of the season. But he didn't let this discourage him.
Video: A look inside Henry's ice cream parlour before the coronavirus crisis hit (KfW Group/n-tv). This video is only available in German.
When the sun comes out in Saarbrücken you don't have to wait for long for the queue in front of Henry's ice cream parlour. Classic varieties like vanilla and nut or exotic flavours such as saffron pistachio and halva milk ice cream are sold from the window; indoors there are sumptuous sundaes or hot waffles when it is still cold outside. But this year, everything is different.
"No one expected such a little virus to throw the whole world off course. It took me a week to even start to get to grips with the surreal situation," says Dominik Heil. "And the never-ending stream of new information has only made me crazier."
Being popular throughout the whole region suddenly became a problem. When window sales were announced on Facebook during the first warm days of spring some customers expressed doubts about whether the precautions were sufficient. And Dominik Heil was also unsure whether the promise of the season's first ice cream might attract too many people into the pedestrian zone. He did not want to take the risk and kept his shop closed at first.
Read more under the image gallery.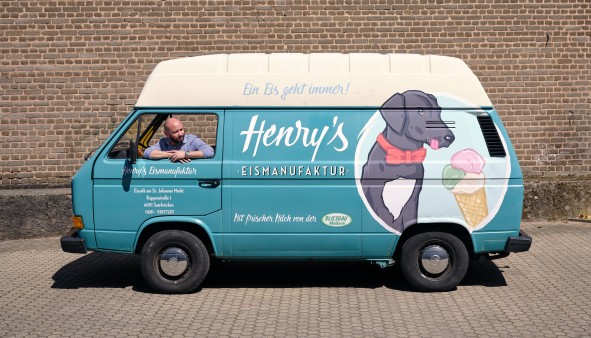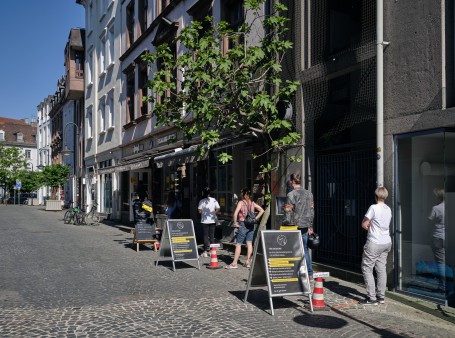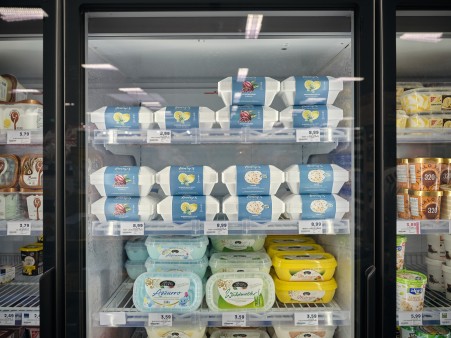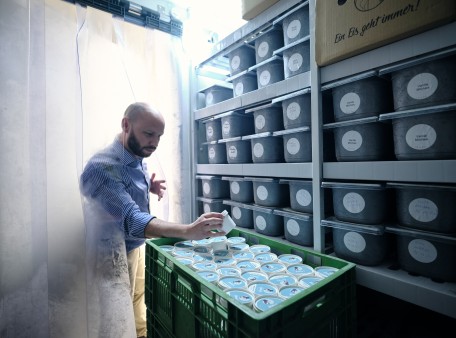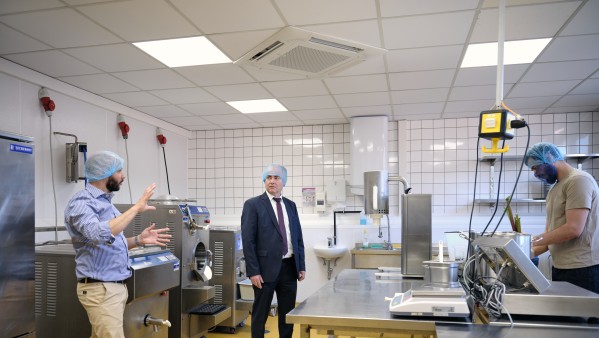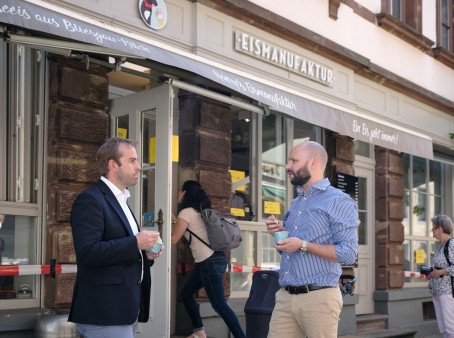 It all started with a VW bus and a dog named Henry as its namesake. After two years as a side project, Dominik Heil decided to make ice cream his full-time job.
The search for alternatives
"But people are still eating ice cream despite the pandemic. How can I generate crisis-proof sales?" is how the founder summarised his thoughts on a contingency plan. Fortunately, he was already supplying selected retailers in Saarland in addition to the café business. This is especially important during the winter season and needs to be expanded in the future. This second mainstay of the business is still relatively small – but given the pressure of the coronavirus crisis, it is exactly the right thing to expand.
Most of the ingredients for the ice cream come from the nearby Bliesgau Biosphere Reserve, so the supply chains are reliable. Now Heil has adapted production and no longer puts the ice cream into the café's stainless-steel dishes, but into containers for shops. Besides the usual 200 ml cups, larger tubs are also available. Information on where to buy the ice cream is provided on social media. Many other retailers would like to include the well-known ice cream in their product range. This positive news poses a new challenge: production processes have to be reorganised and workflows redesigned. Staff previously employed in the café are being trained to work in production. New equipment is needed to increase quantities. It can cost as much as a small car.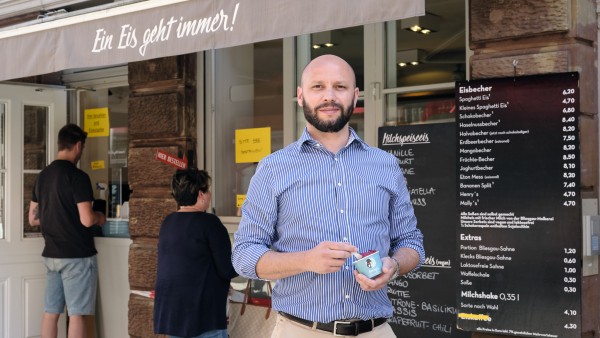 Financial support
Discussions with the regular bank produced a solution: the KfW Entrepreneur Loan can be used for the necessary investments and to finance the working capital. "The favourable conditions and the long term are just right for me, because my income provides liquidity and I can use the loan to invest," says Dominik Heil.
Klaus Appel from the Kreissparkasse Saarpfalz helped him with his application. He has supported the company since it was founded. "Together with the Saarland promotional bank SIKB, we provided financing for the ice cream parlour's interior and equipment," Appel explains. "A coherent concept is especially important for a business start-up in the hospitality industry. The focus on seasonal organic ingredients from the region is something truly unique. But what really determines success is passion and perseverance, you have to believe in it – and this is the case here."
Markus Merzbach, team head at KfW is also pleased, "This goes to show that, in terms of coronavirus aid, KfW has the right promotional products lined up with a special programme for every branch, no matter what the age or size of the business." A particularly important factor for KfW during the coronavirus crisis has been the tried-and-trusted on-lending channels via the customers' banks. "It is always something special when abstract promotion results in concrete support."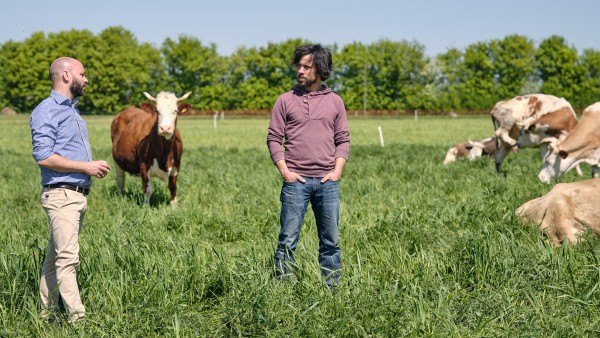 A start-up born of passion
Before the company was founded, Dominik Heil was employed by an automotive supplier. "I was successful and not unhappy in my job. But is this all there is until I retire?" His parents owned a bakery, and their son was always fascinated by this creative work. He started experimenting with ice cream after work, for three years. Then he reduced his working hours – and named the project after his dog Henry. "I used to sell ice cream from a van on street corners and in front of swimming pools. I was not successful at all," remembers Heil. "Frustrated, I tried festivals and events. This was the turning point! I got great feedback and became really well-known. Communication on social media also helped. I did all this on the side, it was really tough. But I wanted to make sure that it worked and that I truly enjoyed it before I transitioned completely." In 2016 Dominik Heil became a full-time ice cream maker and opened the café in the city centre.
Marco Mathieu, who supports start-ups at Saarländische Investitionskreditbank AG, often stops by to sample the new flavours. Last year he was a member of the jury for the KfW Entrepreneurs' Award competition – at the awards ceremony at the Ministry of Economics in Berlin, the company was honoured as the winner for the federal state of Saarland.
By now, Henry's re-opened. Ice cream is served only from the counter at the window. To make this possible, the entrepreneur came up with a detailed concept and had it approved by the public order office. There are separate processes for ordering and paying and contact-free handover of the ice cream cups on a tray. When it gets more crowded, a member of staff is on hand to advise customers of the new rules and the distance to be maintained.
Since there is less work in the café overall, Dominik Heil uses the time to structure processes and roll out an ERP system. The initial state of shock at the beginning of the coronavirus pandemic has long been overcome. "Character is revealed in a crisis," he says with a laugh. "I won't give up so easily or I wouldn't have made it this far. I am extremely happy that I had another sales channel that I could quickly expand. It also showed me that it is not good to put money on just one horse. I am confident that I will be able to continue to treat Saarland to my ice cream." Whatever happens, Heil said, his slogan would always apply, even in times of crisis: an ice cream always works!
Published on KfW Stories: 23 July 2020.