Top-level conversation: Minister for Economic Affairs Robert Habeck and KfW CEO Stefan Wintels in an interview about the consequences of the Ukraine war, new priorities and KfW's role in the German Federal Government's strategy.
Dr Robert Habeck
has been the first Green Party Federal Minister for Economic Affairs and Climate Action and Vice Chancellor since December 2021. He graduated with a doctorate in literature and was Minister of the Environment in the State of Schleswig-Holstein, as well as a writer.
Read more
Dr Habeck, on 14 April you called on people in Germany to save energy. The weather forecast for Berlin was "very cloudy to overcast, rain at times, lowest temperature eight to six degrees." What did you set your heating to?
ROBERT HABECK I'm a big fan of cool rooms anyway. And I know that a lot of people are saving energy just because of the high prices. But I'm asking everyone to see where they might be able to make a small contribution. If you heat your flat and keep the curtains closed in the evening, you can cut your energy consumption by up to five per cent. And if you lower the room temperature by one degree, that results in around six per cent. We can only free ourselves from Russian imports if we look at it as a large joint project in which everyone is involved. And the cheapest, most efficient way to contribute to greater independence is to consume less energy. Therefore we launched an energy saving campaign a few weeks ago which invites people to take part.
Stefan Wintels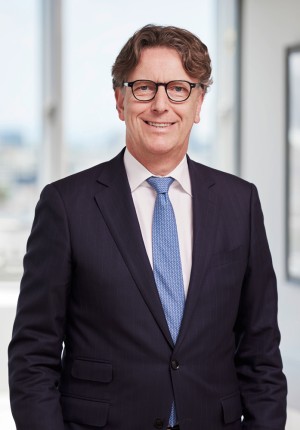 has been Chief Executive Officer of KfW Group since November 2021. Previously, he was Head of German operations at Citigroup. Wintels is a passionate fan of Werder Bremen and has four children.
Read more
Mr Wintels, have you been following Mr Habeck's advice?
STEFAN WINTELS For some time now I have been careful to use resources sparingly, not just when it comes to heating. My wife and I gave it some serious thought after the outbreak of the war, but everyday life with four children often turns out differently to our plans. At the same time, energy efficiency is a task for society as a whole and, in this respect, it is also important that everyone contributes. I am also convinced that the war in Ukraine will ultimately lead to an accelerated sustainable transformation.
What is your strategy for this transformation, Mr Habeck?
HABECK To put the power supply on more robust pillars. Expanding renewables and accelerating the energy transition are the be-all and end-all for an affordable, independent and secure energy supply. In recent months, we have been working hard with all players to make ourselves independent of Russian imports step-by-step and sector-by-sector. A lot has been achieved regarding oil and coal; things are more complex with gas – we still have a good deal of work ahead of us here. In terms of the transition, we will primarily need liquefied natural gas from other regions of the world, and of course this can only be done with the necessary infrastructure. We are therefore taking an important and necessary step by constructing floating LNG terminals. At the same time, however, we are already thinking about the landing infrastructure for importing green hydrogen and ammonia and are further accelerating the ramp-up of hydrogen. We will need large amounts of green hydrogen, especially for the transformation in industry.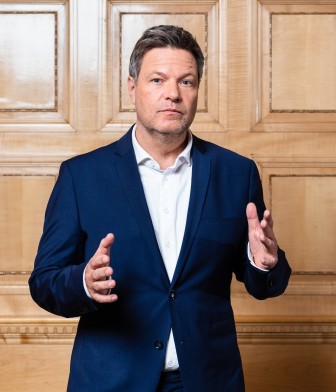 "Carbon neutrality, and peace and security policy must be thought together more than ever before."
Why don't you go further and use nuclear power, like France?
HABECK We have said that we are looking at this question without prejudice. That is why we have examined this question together with the Ministry of the Environment. We have come to the conclusion that extending the lifetimes could only make a very limited contribution - and at very high economic cost and with constitutional and safety risks. Therefore, we are not going down this path.
Mr Wintels, how does KfW support the Federal Government's strategy?
WINTELS We have focused our promotion on the megatrends "Climate & Environment" and "Digitalisation & Innovation" in order to support the economy and society in their transformation and to strengthen Germany's resilience and sovereignty. In concrete terms, this means that we are supporting small and medium-sized enterprises, which play a central role in the Paris climate goals, with targeted programmes to meet the criteria of the EU taxonomy. At the same time, we are promoting innovative technology companies - for example with the Federal Government's Zukunftsfonds (Future Fund) - because they are essential for Germany's competitiveness. Ultimately, innovations also contribute to climate neutrality, for example in the area of the circular economy and electromobility. At the same time, KfW contributes to maintaining energy and supply security in Germany. This includes promoting renewable energies and energy efficiency. But also infrastructure that allows us to diversify energy sources. This is why KfW is involved, for example, in the construction of Germany's first LNG terminal in Brunsbüttel.
Is there also funding to counter rising heating costs?
WINTELS Basically, all measures that increase energy efficiency in the residential sector are promoted - either by KfW or by our partner BAFA (Federal Office for Economic Affairs and Export Control). This also includes investments in renewable energies that allow private individuals to produce their own electricity and heat. The funding has been optimised several times, most recently with the introduction of BEG 2021. By then, more than six million residential units, i.e. 15 percent of all dwellings in Germany, had already been energy-efficiently improved or newly built with KfW funding. From 2023 onwards, we would like to launch a new programme together with the Federal Government that focuses even more strongly on the impact of the measures and takes into account the life cycle of a property.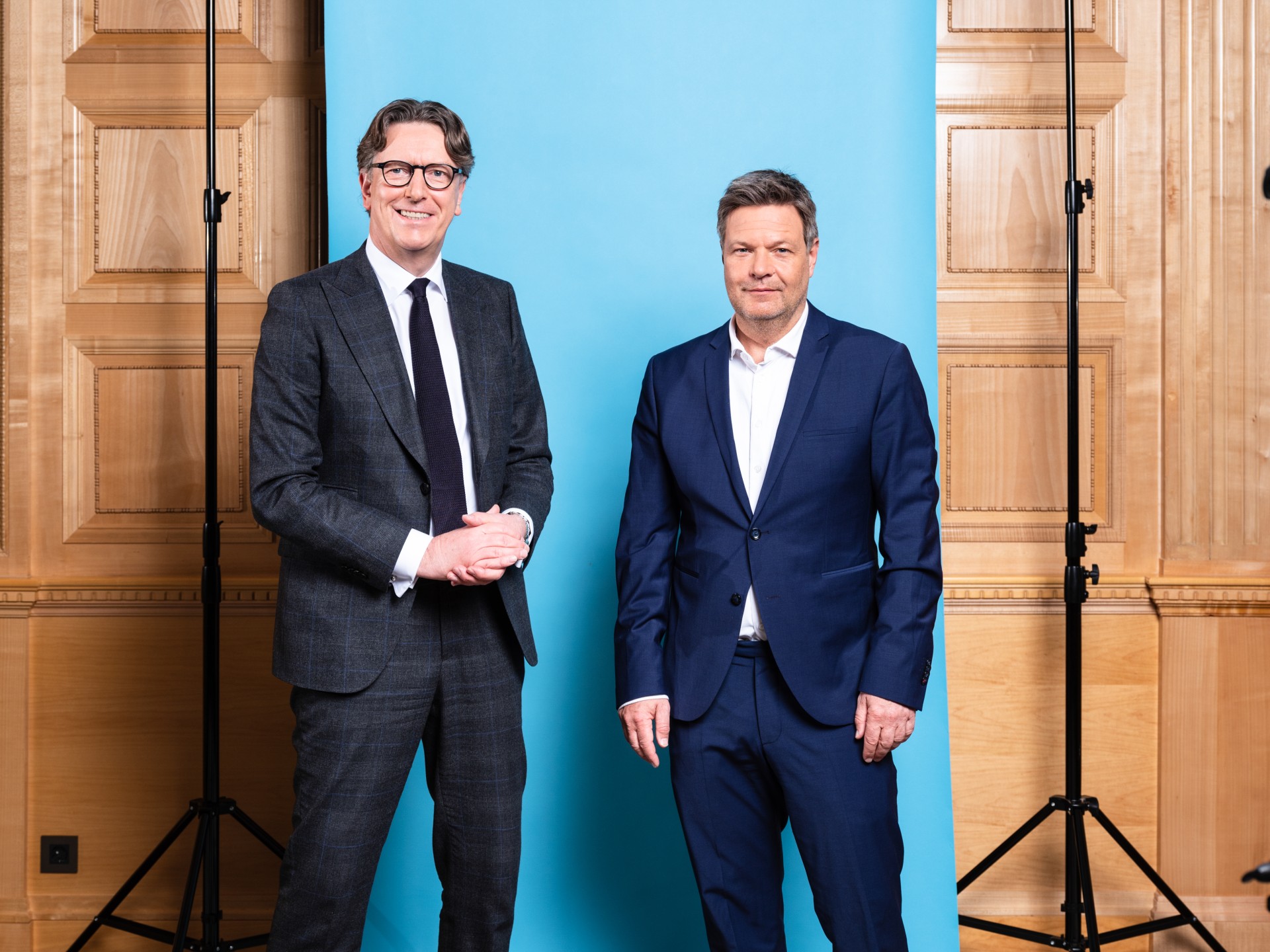 Mr Habeck, you have stepped up to promote renewable energy sources and stop climate change. Now it's a question of energy security. Are you finding it difficult to change course?
HABECK In times like these, it is clear that carbon neutrality and the development of a green economy, as well as peace and security policy need to go hand in hand more than ever before. So I don't see any change in course. Carbon neutrality and renewable energy sources have become even more important. We need to use energy more efficiently. We need to accelerate the expansion of renewables like never before. We are repositioning trade relationships. The war has only stressed the urgency of many things that were already urgent before.
Mr Habeck, why is an energy embargo against Russia not a solution?
HABECK We have imposed targeted sanctions on Russia, which are hitting the Russian economy hard. However, despite the brutality of the war, we must always weigh our decisions. Because any sanctions we impose only have an impact if we maintain them – not just for a few days or months, but for a few years if necessary. At the end of February, I still would have said that Germany would barely be able to cope with an energy embargo. A lot has happened with respect to oil and coal since then. Together with the economy, we have significantly reduced dependencies on Russian imports. The effects of an embargo on oil and coal have become manageable with corresponding transitions. But, of course, all sanctions also mean costs. This also has to be said, in all honesty.
Mr Wintels, you announced the 'decade of decision' at your first KfW press conference in January. Have you changed your mind in the meantime?
WINTELS Quite the contrary! I then have been thinking first and foremost about tackling climate change, and the coming generations. And that will remain so. The war in Ukraine has added a further dimension, increasing the pressure to push ahead with renewable energies even faster – and this will benefit future generations.
Mr Wintels, Mr Habeck, you are both new in office. What advantages do you think this has?
WINTELS I have only been in my role since November 2021. I am very grateful for the trust that has been placed in me. However, it has been a very turbulent seven months so far. In my opinion, the new, impartial view – including in interactions with a new Federal Government – is advantageous. And I benefit from my many years of experience in banking; at the end of the day, you always have to weigh and manage the risks.
HABECK Mr Wintels and I started our jobs a few weeks apart. I took over the position of Federal Minister for Economic Affairs and Climate Action in December 2021, although honestly it feels longer. But like I said, much of what we had in mind in the area of renewables or energy efficiency has now only become more urgent.
Mr Habeck, are the performance of our economy and our prosperity at risk at the moment?
HABECK After two years of the coronavirus pandemic, Russia's war has added new strain to business and economic activity. The war and the economic impacts that stem from it remind us that we are vulnerable. At the same time, every week in Europe, in the international community and in Germany, we are showing that our democracies are capable of performance and action and that we are able to react very quickly and counteract decisively. The German Federal Government is doing everything it can to preserve the substance of our economy, even in difficult times, while at the same time freeing us from Russian imports.
Mr Wintels, how do you deal with the fact that – unlike in your previous job – you are very dependent on the Federal Government?
WINTELS I see this as a unique opportunity to make a personal contribution to the future through my experience and my network. I am very glad to take on this task and responsibility. From the outset, I was impressed by KfW's enthusiasm for the matter, which encouraged me in my decision to join to KfW. One of the strengths of KfW Group is that KfW as a promotional institution is at home in the market. We benefit from our well-positioned subsidiaries: KfW IPEX-Bank, DEG and KfW Capital.
Mr Habeck, how do you see KfW's role?
HABECK As investment and innovation agency of the German Federal Government, we have already given KfW an important role in tackling the challenges of the future in our coalition agreement. In addition to the rapid implementation of state-of-the-art programmes – such as the KfW UBR Special Programme for companies affected by the Ukraine war – KfW needs to be further positioned as a financially strong promotional bank in the coming months and years, in particular in the areas of energy transition, climate change, digitalisation and innovation promotion.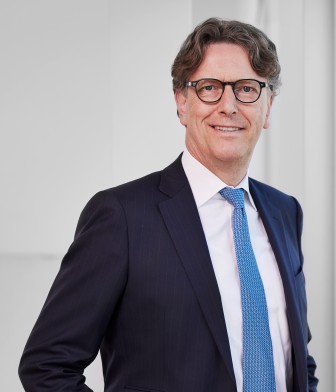 "Climate action remains the key task for the future"
Mr Wintels, is the task too big for a promotional bank?
WINTELS The developments of recent years show how important a promotional bank is. For example, demand for support in the form of loans following the outbreak of the coronavirus pandemic was extremely high. We were able to support more than 155,000 small and medium-sized enterprises during the pandemic and thereby secure jobs and livelihoods. KfW is growing very selectively and only where there is a political mandate, for example in the areas of environmental protection and climate action, digitalisation and innovation. The complementary mobilisation of private capital is extremely important in this respect – we therefore regard this leverage as one of our key future tasks.
Mr Habeck, you said recently that renewable energy is more democratic. What do you mean by that?
HABECK One could think of it slightly pointedly, like this: fossil fuels always tend to create monopolies – both economic monopolies and political monopolies. They need to be defended. The very concept of renewable energies means they are suitable for broadening the scope of energy supply and for anchoring it in society. You can't steal the wind, the sun doesn't belong to anyone. So this means, if we go about it wisely, with the right energy policy, we will create more security, more sovereignty and more freedom.
Mr Wintels, you have also initiated a transformation within KfW. What is happening at the moment and how does it benefit customers?
WINTELS KfW can only make an effective contribution if it transforms itself, absorbs inspiration from sustainability and digitalisation and positions itself optimally. This is why we are making KfW more adaptable and efficient, which also benefits our customers. The ability to deliver to the world of politics and the Federal Government, as well as competitiveness in the market, is a top priority. In future, we want to measure our success more in terms of the impact of our promotion and our activities.
Mr Habeck, looking to the future, what benefits can we expect in the world you are striving for?
HABECK It will be crucial to safeguard the prosperity and freedom of our country and to reconcile this with the planetary limits. Of course, there will be changes. Wind turbines, another form of mobility, the transformation of industry. However, I am convinced that there are great opportunities for both our country and society. If we make the right decisions now, new industrial sectors and jobs will emerge. We can initiate a completely new dynamic.
Mr Habeck, Mr Wintels, thank you very much for the interview.
Published on KfW Stories on 1 July 2022.