The average per capita consumption in Germany is an astounding nine kilos of chocolate a year. And it is even said that the combination of cocoa, fat and sugar makes people happy. But only a small handful of mainstream products are healthy or sustainable. 'the nu company' is conquering the market with new alternatives. The company received the KfW Entrepreneurs' Award for its concept, which aims to change not only an industry but also the world.
In Leipzig's Stelzenhaus, a light-filled industrial monument, 'the nu company' is working on creating green corridors to benefit the climate. They are growing thousands of kilometres away. The corridors consist of mangroves that are planted in Mozambique or Madagascar, for example – with the help of chocolate bars.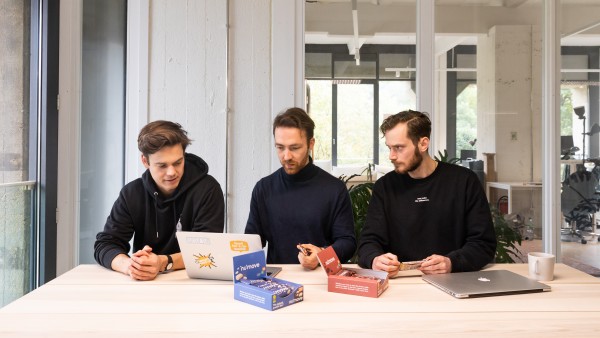 Co-founder Christian Fenner explains what this entails: "We make healthy chocolate snacks that also help us do something for the planet. This is because a tree is planted for every item we sell, offsetting carbon and thereby mitigating climate change. We collaborate with a reforestation partner to plant these trees. Our target is one billion trees by 2030."
It all started with a passion for experimentation and a chocolate do-it-yourself kit in the kitchen of a shared flat. Together with Thomas Stoffels and Mathias Tholey, who had intensively researched healthy nutrition, Fenner designed sweets with less sugar and more hemp seeds. After many attempts, the handmade snacks not only convinced them, but also many of their friends. "A real need seemed to exist, and that spurred us on."
Climate instead of capitalism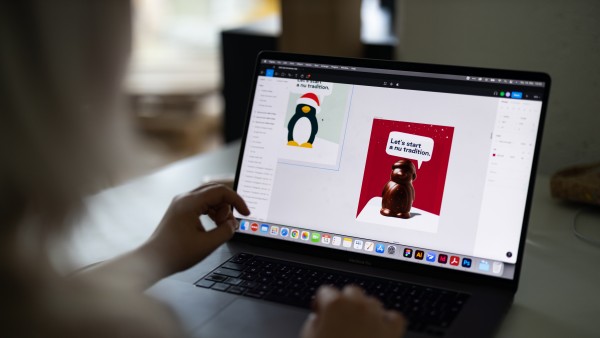 The young amateur chocolatiers had actually already embarked on careers as industrial engineers. But the prospect of working in large corporations did not appeal to them. They also shared the view that traditional economic structures play a role in destroying the environment. "The experiences of our generation are shaped by environmental issues. Even a simple product like a chocolate bar can act as leverage to do something about it," says Fenner.
In 2016, the three friends formed the nu company. To raise start-up capital, they initially relied on crowdfunding – successfully, which was also evidence that there were enough buyers for their products. An EXIST grant for start-ups, funding from KfW and the Sächsische Aufbaubank enabled production to be launched in Dresden.
The chocolate bars that roll off the production line today are sold under the brand names nucao and numove and are made from fair trade cocoa and organic vegan ingredients. They get their subtle sweetness from coconut blossom sugar, and the packaging is made of cellulose rather than plastic.
They were initially only available in organic food shops. One milestone was a listing in a large drugstore that enabled a broader market to be tapped. That is exactly the direction the founders want to go in. "Only if we manage to ensure that sustainability can also be profitable do we have a chance of stopping climate change and saving biodiversity," says Christian Fenner. The company founders passionately pursue their vision.
However, in order to achieve this vision, other actors and companies operating in a similar way are needed. In this respect, the nu company seeks to be a role model.
Creative, daring and contentious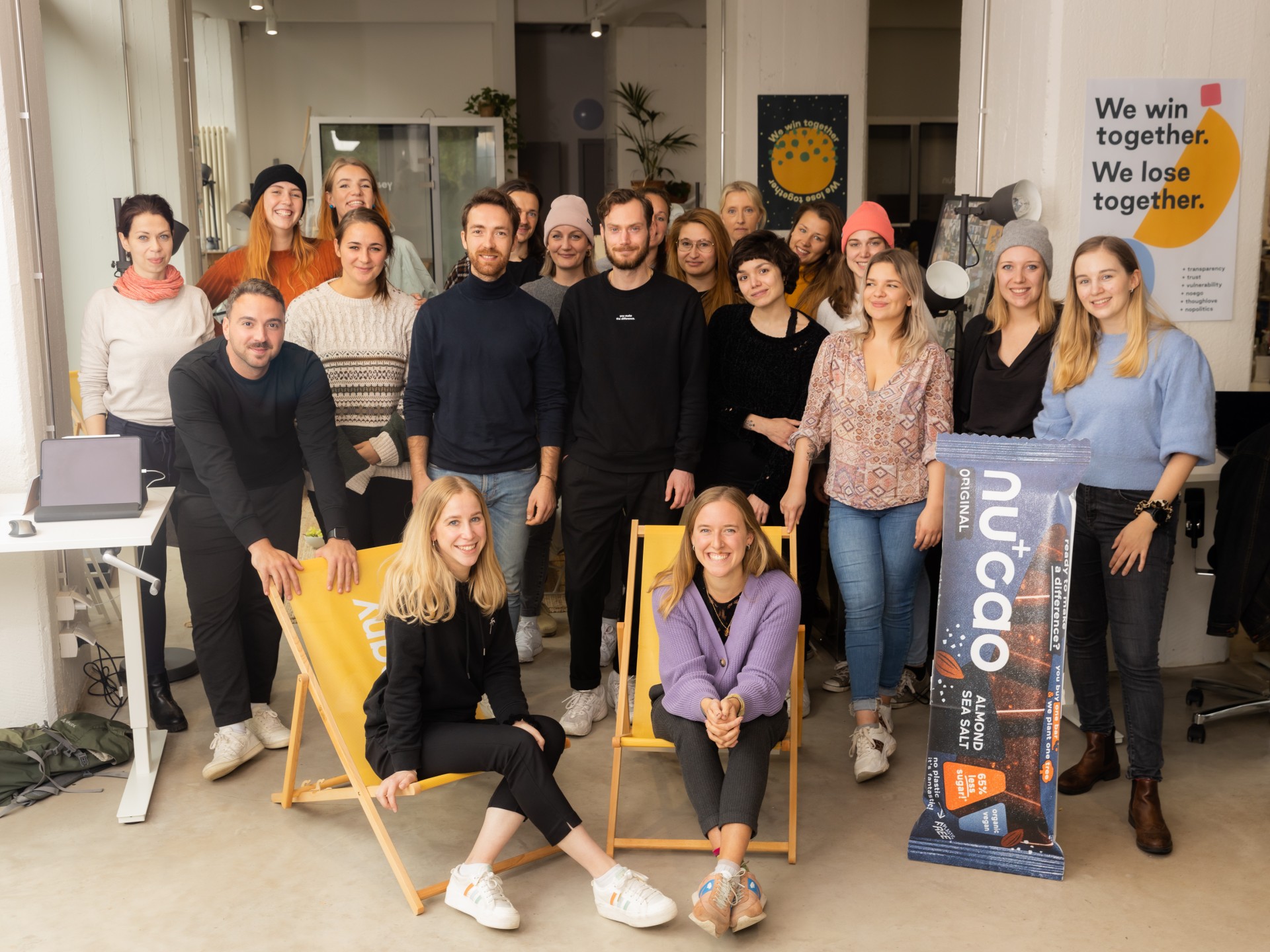 The start-up is visible with its products and commitment to making food more sustainable, made possible by attention-grabbing and provocative advertising campaigns. It condemned malpractices in the food industry on huge billboards in prominent locations. In a widely circulated magazine, the entrepreneurs directly referred to the work of the Federal Minister of Food and Agriculture. In the midst of the election campaign, they reminded other politicians of their responsibility for the environment in a poster campaign.
They also challenged their competitors: 'the nu company' proposed a chocolate purity law to the industry and organised a chocolate summit to discuss the issue. This attracted attention, even though only a small number of more established companies took part. One of the long-standing companies now wants to develop a product together with 'the nu company'. The product will be designed to meet the six specified demands of the company's founders, which range from the reduction of sugar content to climate neutrality.
The conditions for cocoa farming are also inevitably on the agenda. This is because there is severe poverty in the producer countries, and children often work on the plantations. "There is much amiss in the industry as a whole. It is time to bring about change!" says Christian Fenner and emphasises: "I am sure that other, larger companies can also learn something from us, namely to take bold action and be agile."
Transparency and commitment
KfW Entrepreneurs' Award
Every year, the KfW Entrepreneurs' Award honors 16 state winners and one national winner for their business ideas.
The founders do not hide the drawbacks of their own products and report on the ecological footprint of the bars in their Impact Report. Their CO2 emissions are offset through support for a drinking water project in Madagascar and a forest conservation project in Peru – the country where the cocoa mass they use originates.
The entrepreneurs are delivering on their promise to create entire forests with chocolate by cooperating with their partner Eden Reforestation. At the end of the month, they donate nine cents for every product sold, thereby supporting the work of the NGO. It employs people in poorer countries who plant mangroves or other native tree species in formerly clear-cut areas. This provides them with a regular income, and the ongoing reforestation helps to mitigate climate change. The nu company is successful and has strong sales: donations have already helped to plant 10 million trees in Nepal, Madagascar and Mozambique.
To do something on their own doorstep as well, the team, which now numbers over one hundred people, reaches for spades and hoes once a year and plants fir trees in Saxony. Sophia Fischer, 23, and part of Generation Wakeup, was also there. She sees her work as more than just a job: " 'the nu company' is purpose driven. I am here because I want to achieve something and pursue a higher goal working together with others."
The entrepreneurs recently received 14 million euros from prominent investors so that other European and then international markets can be accessed. The KfW Entrepreneurs' Award also helps the company: "The award strengthens our reputation in the start-up community and reflects our credibility," says Christian Fenner.
Posted on KfW Stories on 10 January 2022.