Two aviation specialists from KfW IPEX-Bank explain what really matters when it comes to global business with aircraft financing.
Different time zones are a challenge for frequent flyers. For Antonia Jaeckel, they are a benefit. Ms Jaeckel works as an authorised officer in aircraft financing for KfW IPEX-Bank. In addition to Europe, her target regions also include Asia: the part of the earth where people get up six or seven hours before we do and start working. That is perfect for Ms Jaeckel; she takes her two sons to school and kindergarten in the morning in Frankfurt. Then she works part-time for KfW IPEX-Bank. And when the work day is over in Singapore and Seoul, the financial expert can then spend the afternoon with her children again. What her sons may not suspect: their mother spent the morning getting an Airbus A380 ready to go.
When Antonia Jaeckel sits down at her desk in the morning, she first makes phone calls and writes e-mails to her clients in Asia. For example, Asiana Airlines, a company for which KfW IPEX-Bank has already financed several airplanes – including the A380. The list price for this double-deck mega-airbus is about 428 million dollars. Airlines cannot finance that alone; they require experienced financing partners. "Financing an airplane has many dimensions. The airplanes that we put in the air build bridges between countries and markets, people and continents. This kind of giant transports more than 500 people and several tonnes of freight from one continent to another every day", said Ms Jaeckel.
"In the years to come airplanes will consume significantly less kerosene."
The aviation expert's job never becomes routine, even after more than ten years. "The airline industry always keeps moving and constantly produces new technical developments. In the years to come airplanes will consume significantly less kerosene. The engines are significantly more efficient in the Airbus neo models or the Boeing 737 MAX, for example. That led to many orders from leasing companies and airlines. The financing needs are correspondingly high.
The good feeling from creating connections that would not be possible without aviation is also what appeals to Boris Tiemann at his job. The technology expert and Project Manager has been working in the Aviation Department since 2008. Like his colleague, Mr Tiemann began his career at KfW IPEX-Bank in a trainee programme. That is also how he discovered the field he works in today. "I was subsequently asked if I would like to work in aircraft financing. I did not hesitate for a minute." No wonder: his field of work is interesting. KfW IPEX-Bank counts more than 100 airlines and leasing companies among its clients. Mr Tiemann is responsible for Europe and Africa. "Yet all colleagues here also frequently provide support for projects on other continents in addition to their core regions."
"Most people in aviation have been in the business for years. People know and trust each other."
Source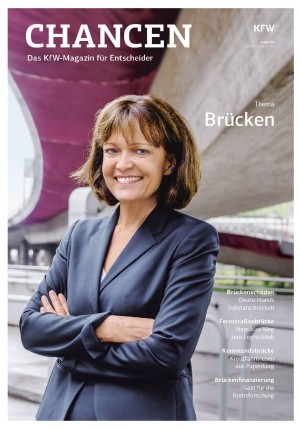 This article was published in CHANCEN Autumn/Winter 2015 "Brücken" (german language only).
to the German edition
Even if aviation business functions on a global scale, the area of financing is very close-knit. "Most people in aviation have been in the business for years. People know and trust each other. The close cooperation with our clients and partner banks in particular is very important for successful projects", said Mr Tiemann. Reliability is indispensable, especially at the end of the financing process. Because after a long period of planning the financing, things happen at a rapid pace during the delivery phase for a new aircraft. While the future owners are still in the technical acceptance phase for the aircraft in Seattle, Toulouse, Tianjin, Charleston or Hamburg, the finance departments of Boeing or Airbus are already waiting to receive the funds. If everything works, the airplane is in the air a few hours later – and usually begins regular scheduled service soon after.
Boris Tiemann has quite a few stories about each of his projects. The financing of several A330 long-haul airplanes for Fiji Airways was particularly memorable for him. The island nation in the South Pacific is more dependent on an air bridge to the mainland than almost any other region of the world. "When the last delivery documents were signed in Toulouse, the CEO of the airline at the time snatched a flight attendant and both of them gave a great spontaneous dance performance. There was visible relief after a phase of extreme focus", explained Mr Tiemann.
For Ms Jaeckel and Mr Tiemann, the negotiation of the financing agreements begins approximately three months before the planned delivery. "Whereas the order is normally placed several years before", said Mr Tiemann. Nearly all important airlines in the world are clients, although a European dimension is always required for KfW IPEX-Bank: "Airline, components like engines, or manufacturing must be European in order for us to get on board with financing", explained Mr Tiemann, who incidentally takes a more relaxed approach when he is not at work: "I prefer to spend the summer in the Rhine-Main region, where I'm from. But for winter holidays a charter flight to the Canary Islands is always a good idea."
Published on KfW Stories: Monday, 10 July 2017