Ethiopia's booming export economy is delighted about Africa's largest centre for air freight – which was planned and furnished by Unitechnik, a medium-sized company from Germany.
Cooperation for more infrastructure
How a major project turned into Africa's largest cargo airport terminal (KfW Group/muthmedia).
Even the Prime Minister came to the inauguration. In the summer of 2017, Hailemariam Desalegn opened Cargo Terminal II at the airport in Ethiopia's capital city, Addis Ababa. At the heart of the area is the air freight hall, which can handle the transshipment of 600,000 tonnes of cargo per year. It is the largest of its type on the African continent. It also set a new benchmark for its "interior architect", German company Unitechnik. With an order volume of almost EUR 33 million, the hall is the "biggest single project" in the history of the company, says Managing Director Torsten Ley.
The company from Wiehl in central Germany, which specialises in distribution and logistics technology, was working in familiar territory at Bole International Airport. Unitechnik also built the much smaller Cargo Terminal I between 2004 and 2006 – its first tentative step into the African market.
Read more under the image gallery.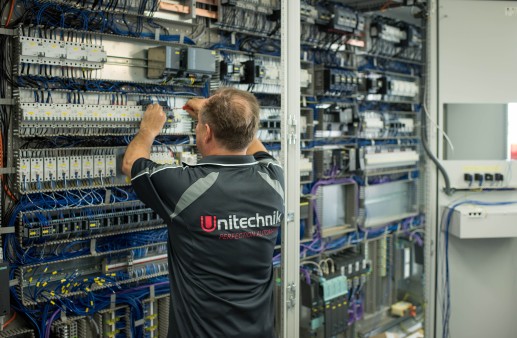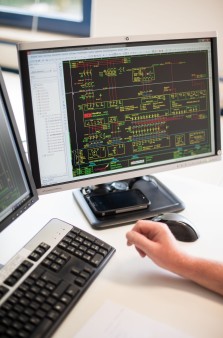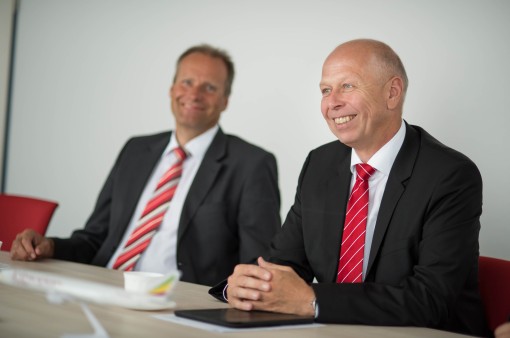 National pride
Ethiopia's Prime Minister Hailemariam Desalegn (left) and Tewolde GebreMariam, CEO of Ethiopian Airlines, inaugurate the new Cargo Terminal at Addis Ababa Airport.
Ethiopia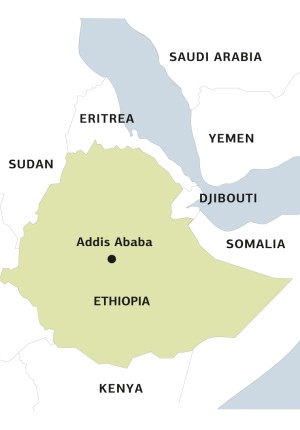 This country at the Horn of Africa offers yet another superlative: With 102 million inhabitants, it has the highest population of any landlocked country in the world. It has the highest number of Unesco World Heritage sites in Africa. And not to forget - it counts as one of the cradles of mankind and is one of the places where coffee originates. Despite all this, it is one of the world's poorest countries – yet in 2015 it was able to achieve the highest economic growth in the world with 10.2 per cent.
"Can we actually do this?" they asked themselves in Wiehl at the time, remembers Sales Director Michael Huhn. After all, Ethiopia was at the top of the risk scale for foreign investments. And, as if to confirm their worst fears, unrest broke out in the country while the team from Unitechnik was visiting. The employees had been trained beforehand by the Chamber of Commerce, and as part of this training they had been taught how to behave correctly in dangerous situations. "We left the project unperturbed", concludes Managing Director Ley.
The risk the company took at the time paid off. In 2013, Ethiopian Airlines commissioned the mid-sized German cargo logistics company to plan Cargo Terminal II and to provide and install the corresponding technical equipment – all for a terminal that was to be five times larger than its predecessor. One of the deciding factors was that Unitechnik was also able to help the client procure finance.
The company broke new ground in the process: For the first time, discussions were held with KfW. Eventually, KfW IPEX-Bank provided Ethiopian Airlines with a loan for EUR 32.8 million, which is covered by German export credit agency Euler Hermes. With this, Ethiopia's state-run airline is paying Unitechnik's share of the overall investment, some EUR 120 million. "Particularly for tapping into countries in Africa, the key is to hedge exports and projects using tried and tested cover instruments from state export credit agencies", says Andreas Ufer, member of the Management Board in charge of transport sectors and treasury at KfW IPEX-Bank.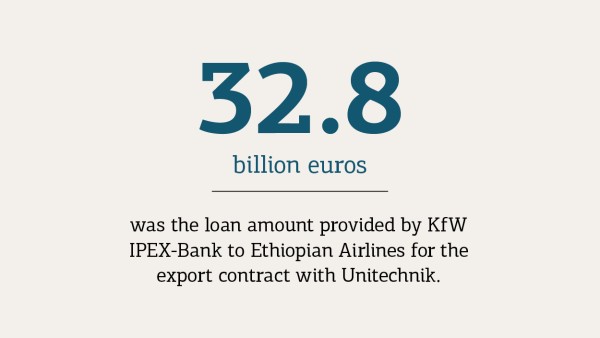 The air freight hall in Addis Ababa is 22 metres high and covers an area equivalent to five football pitches. It was constructed by an Ethiopian building contractor, with whom Unitechnik shared the role of general contractor. A six-storey high-bay warehouse with space for 1,000 air freight containers fills the hall. The containers are transported by fully-automatic storage and retrieval machines that are controlled by Unitechnik software. They can be loaded and unloaded at packing stations. Customs also checks the import of goods here. One special aspect of the hall is that half of it can be used to keep perishable goods chilled– and this is absolutely vital for a country like Ethiopia, which primarily exports food and cut flowers.
For tasks like this, software developer Unitechnik founded a joint venture with hardware manufacturer Amova from Siegerland in Germany under the brand name Acunis. Explaining how they divide up the work, Michael Huhn explains with a charming smile that "Amova delivers the machinery, we supply the brains".
Over the last two years, Sebastian Sommer has visited Addis Ababa around 30 times. The 31 year-old heads up the project at Unitechnik. On site, Sommer soon noticed that Ethiopia's new air cargo centre is one of its most important infrastructure projects, alongside the recently opened light rail system in the capital city: "There is a huge amount of pride in these flagship projects" .
At the site, the role of Sommer and his team of up to 20 Unitechnik employees was highly complex – and this was not only due to the technical processes within the cargo hall. They also needed to organise visas to allow foreign employees to enter the country and leave again without problems, and smooth customs clearance had to be obtained for equipment and materials. And they had to build up their own logistics operations on site – after all, there were some 260 containers of materials to ship from Germany to the construction site.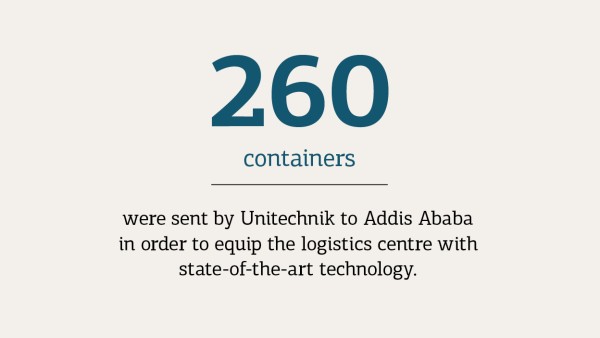 As general contractor, Unitechnik always had to keep a keen eye on the "many different suppliers from many different countries" along the way. Huhn explains that it "was a challenge to motivate them", because – as Ley says – the partners also "needed to be ready and willing to set up a local service team" and to display continued and long-term commitment.
When Project Manager Sommer sits in front of his computer in his office at the company headquarters in the industrial area of Wiehl, the vast hall in Addis Ababa is reduced to multicoloured wiring charts and site plans. Sommer is an engineer by trade, as are two thirds of the 165 employees at the headquarters of Unitechnik. The only hardware product that is manufactured by the company itself are control cabinets in all sizes and specifications, such as those installed in the storage and retrieval machines in the Cargo Terminal in Ethiopia. However, Unitechnik's main field of expertise is software solutions for fully-automated material flow processes, whether for in-flight catering, books or office equipment. Or, in this case, air freight containers.
The global market for cargo airport logistics is dominated by three German companies: Lödige, Siemens and Unitechnik under the brand Acunis. With the cargo centre in Ethiopia, the medium-sized company from North Rhine-Westphalia has now completed its fifth project in Africa. The continent is one of the "core markets" for the company (Ley). According to Andreas Ufer, KfW IPEX-Bank sees Africa as an "increasingly promising sales market and investment location" for German and European companies. And, in the process, the loans "create jobs at the exporter at the same time".
Source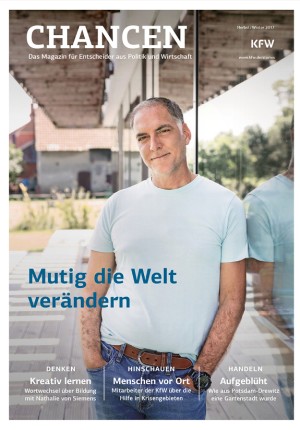 This article appeared in the autumn/winter 2017 edition of Chancen magazine "Mutig die Welt verändern".
To German edition
The Ethopians' pride in their hall of superlatives is shared by Unitechnik Managing Director Ley. During the opening ceremony for the terminals, he promised the CEO of Ethiopian Airlines that Unitechnik would be flying potential customers to Addis Ababa in the future in order to show them the new Cargo Terminal as inspiration for what can be done.
The described project contributes to the following United Nations' Sustainable Development Goals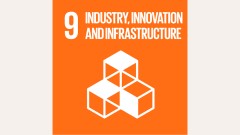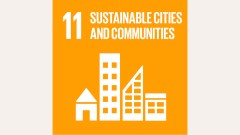 Goal 9: Build resilient infrastructure, promote sustainable industrialization and foster innovation
Non-existent or dilapidated infrastructure hinders economic efficiency and thus engenders poverty. When building infrastructure, the focus should be on sustainability, for example, by promoting environmentally-friendly means of transport. Factories and industrial facilities should also ensure that production is in line with ecological aspects to avoid unnecessary environmental pollution.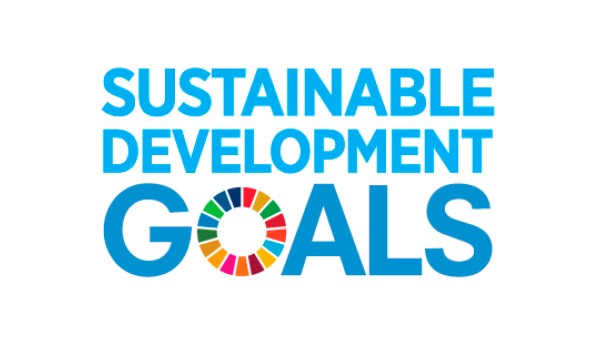 All United Nations member states adopted the 2030 Agenda in 2015. At its heart is a list of 17 goals for sustainable development, known as the Sustainable Development Goals (SDGs). Our world should become a place where people are able to live in peace with each other in ways that are ecologically compatible, socially just, and economically effective.
Published on KfW Stories: 05 December 2017.