Germany is in the process of deciding whether hundreds of thousands of refugees will have the chance to feel at home in their new country or be made to feel permanently alien. Dr Franziska Giffey, Federal Minister for Family Affairs, Senior Citizens, Women and Youth, and Dr Jörg Zeuner in his position as Chief Economist of KfW discussed in 2017 qualifications, special provisions in school and at work – and the German constitution.
About Ms GIFFEY
Dr Franziska Giffey is the District Mayor of Berlin-Neukölln. A graduate in public administration and political science, she has held this office since April 2015. However, the Social Democrat (originally from Frankfurt an der Oder in Eastern Germany) has been familiar with her district for a lot longer than that. She initially worked there as a Commissioner for European Affairs, and later as District Councillor for Education, School, Culture and Sport. Roughly 328,000 people live in Neukölln, and around half of them have roots abroad.
More about Franziska Giffey
Dr Giffey, the integration of refugees is currently the subject of fierce debate. How do you see this in Neukölln?
DR FRANZISKA GIFFEY In 2015, more than 80,000 refugees came to Berlin alone. The official statistics suggest 55,000 remained. I reckon the number is much higher. Particularly in districts with large Arab communities, and Neukölln is one of them, many people found accommodation privately, with relatives and friends. They do not appear in the statistics for refugee accommodation. The state and the districts of Berlin initially provide incoming refugees with emergency care: they receive a bed in shared accommodation, food, and if necessary, emergency medical aid. In the following phase, it is very important for new arrivals to start learning our language.
How do you go about that?
GIFFEY With children, we firstly determine whether they are of school-age. They are then assigned to a welcome class as quickly as possible. There, the children and young people who do not speak German are prepared for attending regular classes. Sports, music and art are usually taught together with German-speaking children right from day one. Here in Neukölln alone we have 56 welcome classes, and there are more than 700 throughout Berlin. Children of primary-school age especially still have every opportunity. The older they are when they arrive, the more difficult it becomes.
About Mr ZEUNER
Dr Jörg Zeuner was Chief Economist of KfW from September 2012 until April 2019. Before Zeuner moved from VP Bank in Liechtenstein to Europe's largest national promotional bank, he spent almost ten years working on various stability and reform programmes around the world for the International Monetary Fund (IMF). An economist, he lectures in Applied Macroeconomics at Ruhr University Bochum, and in International Finance at the University of St. Gallen.
DR JÖRG ZEUNER That is correct. It has been proven that early childhood education is very valuable, especially for children who do not speak German. But it is about more than just the German language. It's about social behaviour, the ability to communicate and similar factors. Ideally, really young children should attend a day care centre as soon as possible. Learning the language becomes considerably harder for those who are past school age. Learning German is then generally only possible through other educational opportunities, often specifically designed for non-natives.
GIFFEY Most adults usually have a strong desire to learn German. In 2015, the Volkshochschule Neukölln – a community college – offered more than 600 German courses. The brisk demand required many more. Many of the courses are financed by the Federal Office for Migration and Refugees (BAMF), while others are funded by the Federal State of Berlin. Unfortunately, the integration courses funded by the BAMF only go to a B1 language level.
Could you explain this?
GIFFEY At B1 level you are able to take care of everyday things in your life. But it is not enough to take part in training or hold down a job. For this you need at least the B2 level – independent use of language, understanding of complex texts, clear and detailed expression. It's all about work and education: we have to give refugees the tools they need to be able to earn a living for themselves. This is also important for the people in Germany who are worried whether our social system will be able to cope with the costs of the refugee aid.
In dialogue
A conversation between Dr Franziska Giffey and Dr Jörg Zeuner (KfW Group/Thomas Schuch).
ZEUNER Spending on German language courses and other education opportunities represents an essential investment for people staying here to be able to work in Germany in a few years' time. So language and integration courses have to be our top priority after the initial aid, and they are. If we do things properly today, we avoid having to provide continued state-funded welfare later on. This is why it is right that public finances are more stretched now than in the future. Yet having a sufficient range of courses will not falter because of a lack of finance. What is challenging for the government, the federal states, municipalities and schools is the sudden increase in the need for integration and learning opportunities. But there is no alternative for us, nor for the immigrants who want or have to spend their lives in Germany.
GIFFEY In effect, refugees can only contribute to the prosperity of this country if they can take care of themselves. For this they need our initial support. This is why we can't have a situation where for months or even years people have no idea whether they are allowed to stay, what prospects they have. This frustrates people and deprives them of their motivation.
ZEUNER Exactly. I'm therefore in favour of using a professional process to quickly identify and document the refugees' qualifications which are relevant to the German labour market. This in principle could be arranged by the employment agencies. This would result in certified skills and expertise relevant for the local job market. It would not amount to a certified vocational qualification, and many people would still have a long road ahead of them to integrate into everyday working life in Germany. But for me it still makes sense to stick with qualifications as far as possible, also in order to better advise people on education and training.
GIFFEY We have to take a close look at which skills people bring with them. That is the basic requirement for integration into the labour market – so far so good. But what also matters is maintaining certain standards. Our job profiles are there for a reason. We also have to ask ourselves whether waiving qualifications and certificates would be fair on those who have done everything to meet these requirements. I have a firm preference for re-skilling.
What is your immediate impression of the skills possessed by the refugees you have been in contact with?
GIFFEY We need a lot of patience. Even the story of a Syrian doctor who can be employed right away in a German hospital is not as straightforward as it seems. There is often a lack of language and professional skills. We also have to acknowledge that it is not only doctors that come to us from Syria. There are a lot of people there with low qualifications, some of whom have never attended school. They need a basic education first of all, and frequently need to learn to read and write, too.
ZEUNER Many refugees had to interrupt their education because of the war and having to flee, meaning they lost valuable time. This is why I would also contemplate opening up our general education schools to people who arrive in Germany with a lot of catching up to do – say, for adults up to the age of 25. At the same time we need to look at expanding the educational opportunities in the regions of origin and transit to improve the prospects of staying there.
GIFFEY You are talking about an age group here that is really falling under the radar right now. But we cannot take care of these young adults at general education schools, we simply don't have the resources for that. Capacities make it unfeasible. In some cases we have already now reached our limits with the idea that children should not be schooled in refugee camps, but in a regular school. A different approach is needed for the older refugees; educational institutions could play an important role here.
ZEUNER But you would agree with me that something has to be done for this age group, in both their interest and ours?
GIFFEY Absolutely. Many young men try to learn some German quickly, and jump at any job that is offered to them. But these tend to be casual jobs without any potential for development. However, we have a skills shortage here. And this is why we should give adequate training to those who are likely to remain.
"It is important to say that the German constitution is our common ground."
ZEUNER At the very least we should take advantage of the fact that many of the young men and women are keen to spend a few more years training. This is preferable to any special rulings that result in a labour market for refugees. In ten to fifteen years, we will be facing a sharp decline in our pool of skilled workers. So we have a certain window of opportunity here during which investments in education will be particularly worthwhile. Incidentally, I am also convinced that we still need highly qualified economic migration to solve the problems of demographic change in all segments of the labour market. Such migration is associated with increased contributions to our social system, thus strengthening it.
GIFFEY With all that we do, whether it is education, housing or work, we always have to bear in mind that things should be fair in this country. So if we are talking about special provisions then we also have to think about the impact on those who have been living here for a long time – which in our case means born-and-bred Berliners as well as earlier generations of migrants. Otherwise it will not be not conducive to social peace. Consequently, we in Neukölln focus on integrated approaches as opposed to special provisions. Because of this, I find it difficult to come to terms with the fact that, in the current emergency situation, we are building large refugee shelters for 400 and 500 people, where they will be expected to live for an extended period of time. That cannot help integration.
"Integration courses and language courses have to take top priority."
So what can be done?
GIFFEY We urgently need more living space in Berlin. The city is growing, and this was happening even before the refugees arrived. Many people are still living in sports halls. In this catastrophic situation we naturally see a rise in aggression, too. This is a problem for the people living there, and it is a problem for school and club sports, that have been unable to use these facilities for months. So we have to act quickly. This is why I think it is right to talk intensively about where we can apply simplified procedures in this emergency situation that are also compatible with building law.
ZEUNER While fully understanding your position, I do advise caution here. Special rules create special markets. If we lower standards now, then refurbishment costs just rise later on along with the risks of re-use. But if we are talking about dismantling unnecessary bureaucracy then I wholeheartedly support you. The biggest bottleneck in terms of living space is the land to build on. Many metropolitan areas lack building plots and, in some cases, existing building plots are not being used.
What do you need most in Neukölln for integration to succeed?
Source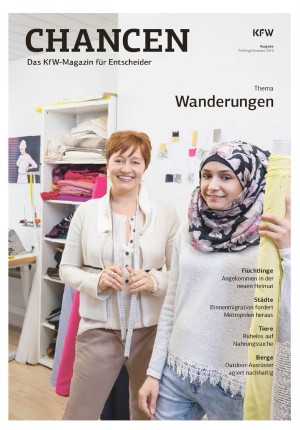 This article appeared in the spring/summer 2016 issue of CHANCEN on the subject of migration.
To German edition
GIFFEY People that get involved. Integration requires voluntary work as well as work on the part of the state. If nobody cares about the volunteers, then at some point they will no longer have the strength to get involved. We need more people to explain to new arrivals in their area how our country works.
Can you elaborate?
GIFFEY Particularly in districts which are already home to a high number of migrants, it is always important to state that the German constitution is our common ground. The rights included in the constitution ensure that everyone in Germany is able to live together in harmony. Values such as gender equality or the freedom of opinion and religion have been fought for here, and they are non-negotiable. Everyone who wishes to live in this country has to abide by it. This is just as important as language courses and integration into the labour market.
Published on KfW Stories: Tuesday, 28 March 2017
Last updated: Tuesday, 30 April 2019