The village of Biere in Saxony-Anhalt is home to Germany's largest cloud data centre. Financing from KfW IPEX-Bank is currently being used to expand the data fortress from 30,000 to 75,000 servers. An interview with T-Systems Manager Johannes Krafczyk.
About Mr Krafczyk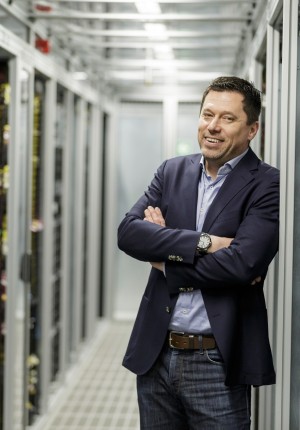 Johannes Krafczyk is the authorised person at T-Systems, who is managing the further expansion of the data centre in Biere for Deutsche Telekom. KfW IPEX-Bank is providing the triple-digit million euro financing for the expansion together with BayernLB and Landesbank Baden-Württemberg, via a loan similar in structure to that of a leasing agreement, in conjunction with Hannover Leasing.
Mr. Krafczyk, the cloud data centre in Biere is also referred to as a "high-tech Fort Knox". What makes its data storage so secure?
When you stand in front of the protective wall and the fences, the building really does look a bit like a fortress. On top of that there are movement sensors and cameras that record every bit of the premises. It is impossible to move around here unnoticed. Our security concept stipulates precisely who is permitted to be where. And even the few people who are allowed to enter the server room may not enter on their own. All of this ensures maximum security.
Have you experienced hacker attacks in Biere?
We register attempted attacks on the Deutsche Telekom network on a daily basis. However, it is highly unlikely that an unauthorised person will gain access to our servers. Our security architecture provides comprehensive protection. Having said that, software is only ever as reliable as the people who work with it. So if, for example, a password falls into the wrong hands on a client's website, it is conceivable that someone could gain unauthorised access to the client's data. That is why it is important for companies to train their employees intensively when it comes to cybersecurity.
The real Fort Knox is used to store gold. What exactly do you store?
Our clients are both private individuals and companies from a wide variety of sectors. This means our servers process a diverse range of information - from holiday snaps to corporate software. But most data doesn't just lie there like a book on a shelf. The majority of it is related to special applications, which the user is constantly working with. Tax or accounting software, for example.
In such cases, companies usually tend to use private clouds, which we customise and provide. That is much cheaper than setting up and operating their own data centre. In addition, we are currently expanding our offering for the science sector. The European Organisation for Nuclear Research for instance, CERN, works with large volumes of data, for which it uses our technical infrastructure.
The law in Germany protects sensitive data relatively securely - even from access by authorities. Is that why clients choose Germany as the location for their data?
The legal situation is primarily a reason for many German companies, particularly SMEs, not to store their data on servers in other countries. There is a healthy distrust of servers that are located in America, for example. Research and development departments, for instance, need to be certain that their data is protected from access by third parties. But it is true: more and more international customers are coming to us because they regard Germany as a secure location for their data. The great advantage of digital data is that its use is not limited by physical boundaries. But this also means it must enjoy optimum protection on the servers it is stored on.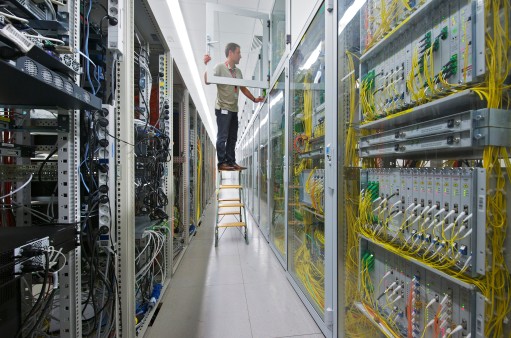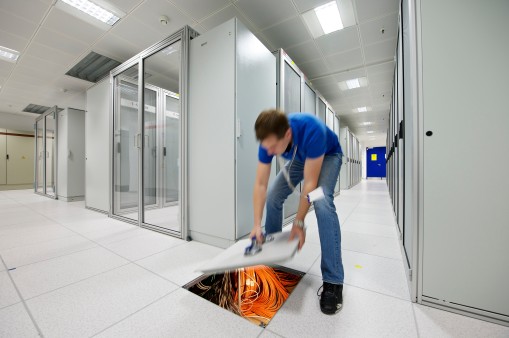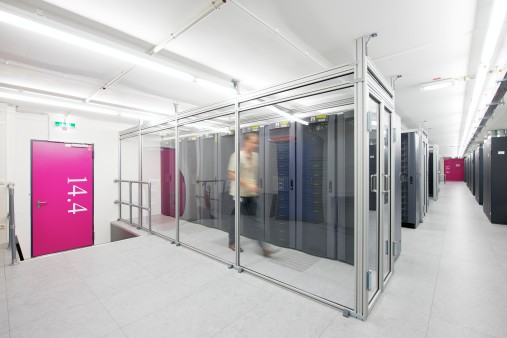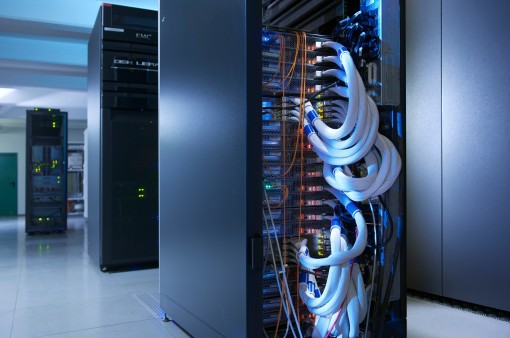 Lord of the Wires
For outsiders the corridors of the cloud data centre in Biere look like a chaotic clutter of cables. But appearances are deceptive; every connection here follows an exact plan.
The loan from KfW IPEX-Bank was also subject to the future energy consumption of the data centre. How do you save electricity?
The energy consumption of data centres is generally high, because the servers need to be cooled 24 hours a day, particularly during peak periods. That cannot be avoided but we can reduce energy consumption with clever spatial planning. In the imminent expansion we are also placing great importance on an efficient interplay between server racks and air conditioning technology. That simplifies maintenance and saves energy. In addition, we will primarily work with an evaporative cooling system. This technology has already proven its worth in the "Biere I" construction phase, allowing us to forego the energy-intensive air conditioning for around 300 days a year. We only require support from cooling units on the warmest days - around 70 a year. With this method, we use around 30 per cent less energy than a data centre with conventional cooling technology.
The centre in Biere was only completed in 2014, but not even three years later, server performance has more than doubled. Why?
It is true that we are registering increasing demand for server capacity and we believe that it will continue to grow in the future. Regardless of whether you register as a customer of an online shop or document your jogging performance with a smartphone app, a world without big data is barely conceivable. The question, which arises for us is: How do we protect our data, some of which extends far into the realm of personal privacy, in the future? It is a challenge and I believe we are finding the right answers in Biere - in terms of IT and the environment.
What will you do when the data centre has reached capacity once again?
We have reserved space for further expansions to cope with this eventuality. Whether and how quickly we break ground on the next phase of construction depends on business development.
Published on KfW Stories on 1 June 2017