KfW promotes energy efficiency. The team of Technical Experts defines which technical standards need to be met. An interview with Petra Bühner about her work at the KfW.
About Mrs Bühner
Petra Bühner is technical expert at the KfW in Berlin.
I'm a start-up helper for …
... more energy efficiency. Together with my colleagues Anke Schenker and Dirk Markfort, we form the team of Technical Experts for KfW's domestic business.
Who benefits from your work?
Everyone who takes advantage of KfW's promotional programmes for energy efficiency or are involved in these programmes in a professional capacity, for example the energy advisors. We create a reliable framework for their work by defining clear requirements for funding. And of course we support the climate policy goals of the German Federal Government, which include achieving the greatest degree of climate neutrality in existing buildings possible in Germany by 2050. This is important because the existing buildings in Germany account for around 35 per cent of final energy consumption and around one third of greenhouse gas emissions.
The biggest challenge?
KfW's promotional products are intended to help establish energy-efficient solutions on the market. We must therefore ensure that the promotional programmes are not only energy-efficient, but also compatible with market conditions and intelligible to the funding recipient. The challenge is that everyone in our team, supported by external experts, has both technical expertise and a thorough knowledge of the legal framework at national and European level. After all, the technical standards we have developed are an essential component of the energy efficiency promotional programmes.
A personal success?
When we began promoting energy efficiency measures for non-residential buildings. This issue has been a long-standing concern of mine because huge carbon savings are possible in the municipal and commercial sector when buildings are modernised. As Technical Experts, we played a key role in developing the promotional products.
What gives you satisfaction in your job?
I often see specific examples of how KfW's promotional funds have a positive effect in a practical sense. Our area of responsibility includes quality assurance — which means we leave the office and verify whether the technical requirements of the funded projects have been met. Then I can see for myself, for example, if the structural quality of kindergartens or sports halls has been considerably improved as a result of energy-efficient refurbishment.
Source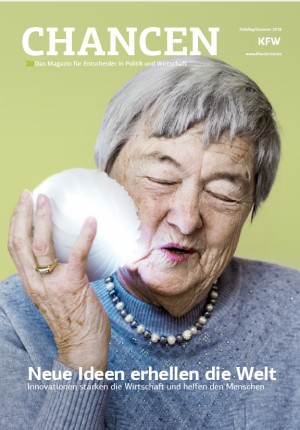 This article appeared in the spring/summer 2018 issue of CHANCEN "Neue Ideen erhellen die Welt".
To German edition
What projects are currently on your desk?
In the building sector, the smart home, the intelligently networked building, is becoming increasingly important. And energy issues important for climate policy such as decentralised electricity production, low-emission transport or energy-efficient buildings will be linked even more closely with one another. One example is the legislator's plans to make parking spaces for new commercial buildings with charging stations for electric cars mandatory in future. This creates new requirements for the conceptual design of our promotional products.
Published on KfW Stories: Dienstag, 3 July 2018