Many digital entrepreneurs need financial start-up assistance. The Managing Director of the coparion fund Christian Stein, invests venture capital in promising enterprises.
About Mr Stein
Christian Stein is Managing Director at coparion in Cologne.
I provide initial assistance for...
... start-ups through coparion, our venture capital fund, set up by KfW and the German Federal Ministry for Economic Affairs and Energy in 2016. We have a fund volume of EUR 225 million in venture capital and are extremely flexible. This makes us one of the largest VC companies in Germany and we want to bolster the growth of young companies on a sustained basis.
Who uses the fund?
Companies in early stages of their growth that have already been able to put something on the table. We invest in places where the first version of the engine has already been assembled, but a lot of oil and fuel is still required. Given our shareholder structure, we are only permitted to cover up to 50 percent of a round of financing – which is why we work together with private investors who can get involved to at least the same extent.
How do the investments work?
Companies can receive up to ten million euros from our fund. Not in one lump sum, but spread out over several rounds of financing, during which they have to prove the potential of their business model step by step. There is no set list of criteria to tick off here. Initial successes are important: this could be an innovative technology, reliable customer relations or sales.
Can you give us an example?
The digital insurance broker Clark. They are able to analyse all the insurance data of a customer in just a few minutes, compare this with other offers, identify risk gaps and recommend ways to optimise. We are convinced by the business idea and by the entrepreneurs behind it.
The biggest challenge?
For every investment, there are always good reasons not to go ahead with it. The skill required here is the ability to accurately gauge the prospects of innovative technology and service companies. We objectively weigh the risks against the potential returns – but there is always a bold decision to be made at the end.
What gives you satisfaction in your work?
If you are involved in a variety of companies, as we are, there is a reason to be happy and to be disappointed almost every day. Ultimately, it is the final result that counts for us – but there are many emotional moments on the way there.
Source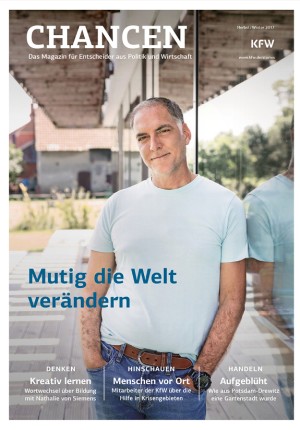 This article has been published in CHANCEN, autumn/winter 2017, "Mutig die Welt verändern".
To German edition
And looking ahead?
The term of the fund is currently limited to ten years. So most of our path still lies ahead of us. Until then, we will use our capital, know-how and our contacts to drive the growth of numerous start-ups, and we ultimately hope to make successful sales of our investments for each individual company and for coparion.
Published on KfW Stories: Wednesday, 22 November 2017