Cities and municipalities have to reinvent themselves. The German Federal Government is supporting their digital journey with a special funding programme. Dr Ingrid Hengster, member of the KfW Executive Board and Anne Katrin Bohle, State Secretary at the Federal Ministry of the Interior, Building and Community, talk about the situation in German city halls and the aim of the Smart Cities pilot projects.
About Ms Bohle
Anne Katrin Bohle has been State Secretary at the Federal Ministry of the Interior, Building and Community since 2019. After studying law and political science, Bohle – born in Recklinghausen in 1961 – initially concentrated on labour market issues. In 2005, she was appointed head of the minister's office in the Ministry of Transport of North Rhine-Westphalia with focus on urban development until she moved to Berlin in 2019.
Ms Hengster, what particularly impressed you during the first round of the Smart Cities pilot projects?
Hengster: I am fascinated by the project overall because the issues being tackled are as diverse as the municipalities themselves. They range from new mobility concepts to energy efficiency. For instance, there are practical solutions that ensure that street lamps only light up when they are needed – that is, when people or traffic pass by.
The concept is diversity, is that right Ms Bohle?
Bohle: In this first phase we were very careful – a bit like the saying "Let all flowers blossom" – to ensure that the pool of participants was heterogeneous in terms of both size and approaches. That means we are active in rural districts, small communities, medium-sized towns and even some large cities. It was in fact important to us to have as many different learning examples as possible, covering the entire bandwidth of the municipal landscape in Germany.
Ms Bohle, at the Federal Ministry of the Interior, you are in charge of the Smart City Dialogue, which promotes municipal pilot projects. How smart are German municipalities already at this point in time?
Bohle: In terms of both awareness and interest, very smart. I have yet to meet a mayor or a municipal representative who isn't certain that this is the right direction. Many ask themselves: what services do I need to offer? Who defines my portfolio of services? Is it citizens? Is it the private sector? Do I have to think about both? Germany already thinks smart. But we still have work to do when it comes to implementation.
Internationally, Germany is lagging far behind in the digitalisation of government services. Why is that?
Hengster: If you look at a smart city like Masdar in Abu Dhabi or Songdo in South Korea, it's easy to get the impression that these are completely different dimensions. However, these are also places where entire cities or at least districts of the city are designed from the ground up – which opens up completely different possibilities. I believe that the municipalities here in Germany are moving in the right direction for us: they are careful to choose the things that suit their concept. They ask: what do my citizens actually want? And they are starting with smaller yet targeted steps to encourage all citizens to take part. Digitalisation is a journey. And what the competition with the pilot projects has now enabled us to do is to whet the appetite, to get the municipalities to tackle individual issues, to make them interesting for their citizens. We have now started this promising journey.
About Ms Hengster
Dr Ingrid Hengster has been a member of KfW's Executive Board since April 2014 and is responsible for areas including domestic promotion. Born in Linz in 1961, the doctor of law gained international professional experience at renowned banks such as the Swiss UBS, Credit First in Boston and the Royal Bank of Scotland Group. Hengster is married and has one child.
What are the most important next steps in the process?
Bohle: We have very clearly seen that the issue of "Smart Cities" has not only arrived in the consciousness of the municipalities – they have become the key driver. Fifteen years ago it was more the big industrial corporations like Siemens or BMW. Back then, everyone in the private sector was presenting ideas for Smart Cities. Now we see cities that are asking: what are the needs and how do I meet them? No need to stick solely to a digital application for dog tax and parking permits. To put it bluntly: if I cannot easily do these simple things online and all I can do is make an appointment with the citizens' centre online, it's just not enough.
Where do you see the greatest opportunities for municipalities working for digital change?
Hengster: This is again a very broad field. School facilities can be improved, new mobility concepts can be tested or a digital doctor can be established to keep people in rural areas from having to drive to the nearest town or city. Another important thing: digital networking makes it possible to attract new companies and thus gives young people the opportunity to find jobs and stay local. New work concepts can also be tried out; you don't necessarily have to commute, but can at least do some of the work from home. This also creates more incentives for start-ups to move to rural areas.
All of this requires modern infrastructure. Aren't there too many gaps in Internet coverage in Germany to actually implement these kinds of concepts?
Bohle: We're not trying to sugarcoat anything. To maintain the competitiveness of our national economy and Germany's role in Europe, we must make progress in this area. We are now also in the process of catching up together. Whether with funding programmes or faster planning processes. I was very happy, for example, about how quickly the federal states agreed to give their approval for new mobile phone masts up to a height of 15 metres. There are a lot of these small building blocks, but you are absolutely right: we have to be very, very fast across the board in order to make the best out of the innovation that exists in people's minds.
"Everyone selected must be prepared to share their findings with others."
How much investment is needed to make municipalities digitally fit nationwide?
Bohle: There are no valid estimates. It starts with the question: when is a community smart? We are drawing on this broad definition by facilitating projects from a wide range of areas. Despite a very short application deadline and the demanding application conditions, we received about one hundred high-quality applications.
Hengster: The large number of participants alone is a clear sign: the issue has definitely hit home. Many people no longer wait for subsidies to be made available, but are investing themselves. And thanks to this combination of initiative and funding, I believe we will make significant progress in the coming years.
The winners of the first round of the competition included cities such as Wolfsburg, Gera or Süderbrarup, but no major cities. Why not?
Bohle: We are planning 750 million euros for all four rounds. We assume that we will be able to support about 50 municipalities – or municipal associations, which is particularly important to me. We had discussed the parameters for the competition beforehand, and the major city segment starts at 100,000 inhabitants. There was actually criticism that none of the major cities were involved at the beginning of the programme. But there is no absolute quantifiable value to evaluate the submissions. We're not doing the high jump, where I can clearly say: someone jumped higher than 2.02 metres.
Hengster: In addition, many large cities have been working hard to address the issue of digitalisation for a long time. We wanted to send a message that we consider digital change to be very important for the entire country, and we also wanted to target medium-sized cities, rural districts and rural areas.
How exactly are the winners supported?
Bohle: It depends on the application. We support the municipalities for up to seven years with several million euros each. In addition, we provide the municipalities with technical expertise and support a broad transfer of knowledge – also beyond the directly funded projects.
Hengster: Some of them want to develop a concept, others already have one, want to go into the next step of implementation and have to hire experts for this. The amounts are simply paid out via KfW, and the municipality can access it very unbureaucratically and at short notice once the decision has been made.
Bohle: I would like to thank the German Bundestag, which has enabled us to plan for the long term and cover a very wide range of issues. After all, the idea is not to develop a mobility app. Providers from the private sector are already doing this very well. Instead, we ask: what do cities and municipalities have to offer their citizens in future when it comes to digital services for the common good? What's more, the guiding principle of the Smart City must serve the common good of urban society.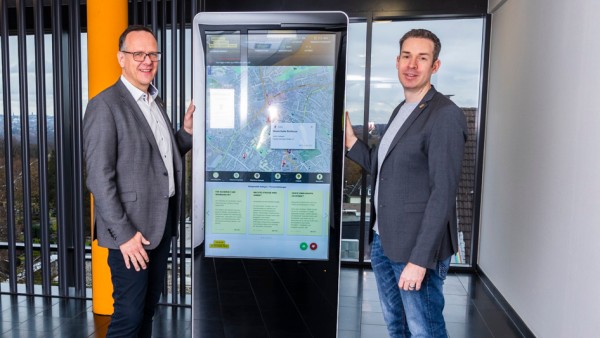 At the moment not even one in five Germans interacts digitally with the authorities. What is missing: interest on the part of citizens or an attractive range of services?
Hengster: Virtually everyone uses online services in their private lives today. Many people shop online, even older people own a tablet or laptop – this is much more common than you might think. I think it is because citizens do not yet know enough about what their municipality is capable of.
Can you think of an example of a model project?
Hengster: Take Solingen. The city has designed a digital screen where citizens can get information. The feedback was very, very positive. Or: Ulm asked its citizens for ideas about how to improve their city. As far as I know, several hundred suggestions have already been received. You have to whet people's appetites. You have to show the citizens: as a local authority, as a municipality, I can offer something that adds digital value.
Bohle: For us, the key driving force is urban development. Ulm and Solingen have very different capabilities in terms of their own financial strength, but both have a long tradition and expertise in civic participation. They are two cities that clearly say: I can't do this without the citizens, I want to do this with them. This is requires more effort than just forcing things, but citizen participation is important to us.
It also reflects the medium: networking promotes dialogue and co-determination.
Hengster: Yes, it suits the digital world. People want to get involved. So, there can be no end in terms of citizen participation in the municipalities. Many things are possible from a technical point of view, but it is always a question of creating something that citizens accept and like to use because it adds value for them. This is how it continues to spread.
"Digital networking makes it possible to attract new companies."
Is it enough to support a few flagship projects in order to make progress in the area?
Bohle: Everyone selected must be prepared to share their findings with others. If I may be so bold as to say so: you have to be willing to get "bare all" so that we can all learn from the pilot projects and their experiences. Because we cannot support every municipality – even if it is a nice, big funding programme. This is why knowledge transfer is essential for us.
Hengster: But we can already see that there is a lot of willingness to network with the other participants in the competition and to learn from each other. We also said: from a technological standpoint, we want to have open interfaces and develop software solutions that can be reused. So that what works well in one municipality can be seamlessly transferred to others straightaway.
What will the next round entail?
Bohle: It is not a repeat of the first round. We also want to take the initial findings from the opening round with us. If innovation happens as fast as in this segment, it would be a crime to miss out on any development. I think that one of these developments will also be the issue of security. People are concerned. Data protection on the whole is an issue. It will be important to strengthen the technical knowledge of municipal employees and not to select isolated solutions. We will also offer advice.
Source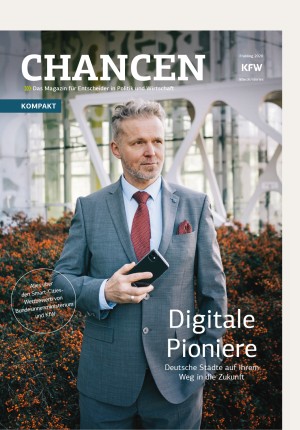 This article was published in CHANCEN Kompakt spring/summer 2020 "Digitale Pioniere".
To German edition
Hengster: In recent years, we have seen that cybercrime is on the rise. There are more attacks on banks, large corporations, but also on the public sector – and citizens are aware of this, too. So, of course they expect the municipalities to be prepared and to be very careful with their data. Some of this is new territory. Implementing the right protection mechanisms, having clear concepts, and sharing information about them is a very important job.
Bohle: We definitely do not want potential fears to slow down innovation. It's like saying, "I'd rather not do anything than do something wrong."
Hengster: I don't think people would even accept it anymore. Because we are also seeing a change there, too: citizens want a modern city.
Published on KfW Stories: 18 February 2020.