Tip: Activate javascript to be able to use all functions of our website
The human rights discussion
What responsibility does KfW bear for protecting human rights in the course of its financing activities? Does it fulfil this responsibility or does it fall short in places? KfW posed these questions as the core topics for its 2017 Stakeholder Roundtable. Representatives from non-governmental organisations (NGOs), politics and business made their expectations clear.
2017 Stakeholder Roundtable
KfW Group maintains regular correspondence with its stakeholders. At the roundtable, which took place on 12 October 2017 in Berlin, the focus was on responsibility for human rights. Those responsible for sustainability management at KfW were invited. They took questions from the participants and worked with them on recommendations. The results were presented to the KfW Executive Board and incorporated into the further development of the bank's sustainability management.
The participants in the 2017 KfW Stakeholder Roundtable (left to right):
Dr Jürgen Schuol, Sabine Braun (moderator), Kathrin Petz, Cornelia Heydenreich, Janine Barbier-Neubacher, Dr Solveig Pape-Hamich, Matthias Döhrn, Nadine-Lan Hönighaus, Annette Seidel, Dr Léonie Jana Wagner, Dr Karl Ludwig Brockmann, Claudia Eckhardt, Martin Geiger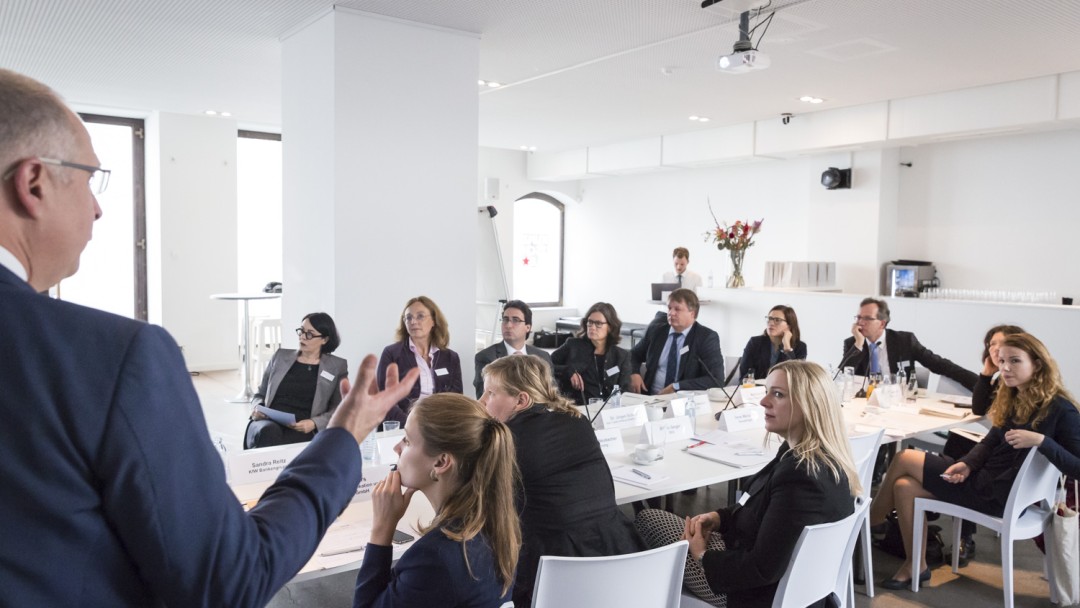 Gap between aspirations and implementation
In the global establishment of human rights, there is often a difference between set standards and real-world implementation, as both KfW and its stakeholder representatives agreed. Consistently clear legal provisions at national level, specifying the requirements for respecting human rights under international law, would be desirable. However, it would be unrealistic in the near future to rely on there being, as an alternative, this type of harmonised specification in the form of a single set of rules which would need to be internationally negotiated. Consequently, companies and banks should look for their own openings to integrate human rights considerations into their area of responsibility with nation-state support.
"There is a responsible and engaged form of civil society growing and applying its expectations for human rights to business and politics. This is bringing the topic closer and closer to the heart of society."
Annette Seidel, German Federal Ministry for Economic Cooperation and Development; head of Human Rights, Gender Equality and Inclusion of Persons with Disabilities Division
"As a sustainably run bank of Germany's Federal Government and federal states, KfW feels a commitment to the issue of human rights. This includes responsibility for making further progress on the issue along with our stakeholders."
Dr Karl Ludwig Brockmann, KfW Group; Group Officer Sustainability
Transparency as a basis
From the participants' perspective, it is key that KfW's financing projects be presented transparently so that the bank's actions can better be evaluated by external parties. The World Bank provides a good example of transparency. A number of stakeholder representatives also expressed their wishes to see the release of assessment reports related to environmental and social impacts, in addition to detailed information about the projects before implementation (going beyond the existing data). However, this may be hindered by confidentiality obligations and non-disclosure agreements.
At the end of 2017, KfW Development Bank launched a revised version of its transparency portal. The portal contains detailed data about all the development bank's projects since 2007, updated quarterly.
"Transparent presentation of financing projects in advance is our target and expectation for KfW Group."
Kathrin Petz, Urgewald e.V., environment and human rights organisation; Berlin office (specialising in banking, coal and the climate)
"Transparency in advance is a challenge due to non-disclosure agreements, since these are one of the conditions for cooperation with our customers."
Matthias Döhrn, Siemens Financial Services GmbH; head of Department for ECAs & Investment Guarantees, Project & Structured Finance
The framework of KfW's Sustainability Policy
There are various methods of evaluating the impacts companies and banks have on human rights. For example, human rights impact assessments can be used in advance to analyse potential consequences for the realisation of human rights. In response to the question of why a human rights impact assessment is not carried out for all KfW financing projects, including KfW IPEX-Bank projects, KfW would note the use of its own sustainability guidelines: planned projects are subjected to an environmental and social impact assessment (ESIA) in accordance with international standards. In this context, emphasis is placed on financing in emerging and developing countries, as well as export and project financing outside the OECD. Human rights considerations are a fixed and integral part of the ESIA. Consequently, a blanket demand for additional assessments would not be fruitful.
"For KfW, it is crucially important to directly address project-specific risks and potential in terms of human rights, as well as actively including the individuals or groups that are affected."
Claudia Eckhardt, KfW Development Bank, Technical Expert for Environmental and Social Impact Assessment
Evaluating impacts on human rights
Company representatives are looking for more guidance around what exactly would be considered serious infringements on human rights. This means that impacts on the human rights of various interest groups can be evaluated in different ways sometimes. One example is a dam project, which could jeopardise the way a river is used to exercise cultural and religious customs — and, thus, the cultural rights of indigenous groups. At the same time, the project could contribute to a better energy supply (right to an adequate standard of living) and more jobs (right to work). This example illustrates how different considerations relevant to human rights can often be in tension with one another. It is therefore important to cast a light on a project's specific human rights challenges on an individual basis.
The Universal Human Rights Index is a helpful way to better evaluate the human rights situations in individual nations. The Human Rights Index published by the Office of the United Nations High Commissioner for Human Rights [OHCHR] contains assessments of the human rights situations in all member states and provides support with identifying human rights issues typical of particular countries.
Sector-specific rules also offer guidance for achieving human rights. For example, several of the Hydropower Sustainability Assessment Protocol's checkpoints explicitly address human rights issues in the evaluation of hydropower projects. Alongside the industry, NGOs and the financial sector were also involved in the protocol's development.
"When exactly is there a serious human rights violation? Consistent definitions must be developed for this in order to provide clarity to businesses."
Dr Solveig Pape-Hamich, Euler Hermes AG; head of Sustainability Department
The challenge of the supply chain
It is a challenge for businesses to comprehensively analyse how human rights are dealt with in their supply chains. Large industrial companies with thousands of suppliers point out that they can only consider a selection of their suppliers, meaning that they must perform a risk classification process in the same vein as banks with their customers' supply chains. In addition, it can still take years from then until their contracting partners can certify their suppliers accordingly. Decent political conditions are helpful in this regard. But pressure from banks can also help. For instance, a number of development banks, operating as financing partners, persuaded a large agricultural retailer to involve the bulk of their smallholder suppliers in sustainability initiatives, as well as having them certified.
"Many of our member companies are deeply committed to greater transparency and sustainability in the supply chain. But there is still definite uncertainty as to when a company is satisfying its responsibility."
Nadine-Lan Hönighaus, econsense – Forum for Sustainable Development of German Business e.V.; Deputy Executive Director
"Supportive political conditions will persuade companies to take responsibility for their supply chain. This is apparent in the IT sector, which is now more consistent in tackling conflict minerals as a result of the United States' Dodd-Frank Act."
Cornelia Heydenreich, Germanwatch e. V.; Team Leader for corporate accountability
NGOs as "bridge-builders"
From the participants' point of view, NGOs play an important role in achieving human rights. They can act as consultants in human rights-related projects, integrating the interests of affected parties and mediating between different groups. For instance, there are good experiences with competent NGOs supporting people affected by resettlement measures. The NGOs active on the ground are familiar with the local characteristics and maintain contact with local residents as well as government bodies. As a result, they can build bridges between businesses, governments and affected groups.
"Non-governmental organisations can better and more comprehensively address the issue of human rights than is possible within the framework of of bilaterally negotiated projects. Their close proximity to local actors plays a decisive role in advisory services."
Annette Seidel, German Federal Ministry for Economic Cooperation and Development; head of Human Rights, Gender Equality and Inclusion of Persons with Disabilities Division
"To encourage processes of participation, connections to officially adopted means of participation should be sought out in the relevant country. KfW can play an intermediary role here."
Dr Léonie Jana Wagner, KfW Development Bank, sector economist specialising in human rights
From shrinking spaces to creating spaces
In many countries, civil society is operating within an increasingly smaller public space. These "shrinking spaces" are usually attributable to legislation that condemns NGOs and deliberately restricts their financing or freedom of association. The "creating spaces" approach can counteract this. This involves opting for projects that indirectly promote civil and political human rights by strengthening economic, social and cultural rights. For example, education and health projects or efforts to combat poverty can contribute to human rights empowerment and create new options for groups within society.
"In the discussion on infrastructure projects, questions about projects' positive impacts on people — as well as on their right to education, health care or participation in economic development — are very important. This should be taken more into account in the analysis."
Dr Jürgen Schuol, Voith Hydro Holding GmbH & Co. KG; head of sustainability
Changing conditions due to global crises
KfW's activities are also subject to changing political and social conditions. Speed is of the essence during crises, but the capacity levels of government partners are often limited. In response to the substantial crises and movements of refugees in recent years, Germany's Federal Ministry for Economic Cooperation and Development (BMZ) has reallocated funds from its budget — including some large amounts — and set up special initiatives. KfW must deal with these types of changes flexibly, for instance with increased cooperation with United Nations organisations instead of governmental executing agencies. However, the requirements of the KfW Sustainability Policy and the ESIA standards apply regardless of this, even in the case of projects that need to be executed at quick turnaround.
"We apply our environmental and social impact assessment consistently, regardless whether the prevailing circumstances change."
Martin Geiger, DEG; Director of Sustainability and Corporate Governance Department
National Action Plan promoting cooperation
In late 2016, the German Federal Government adopted a National Action Plan (NAP) for implementation of the United Nations Guiding Principles on Business and Human Rights. Representatives from business, politics and civil society participated in the consultation process during the run-up to the NAP. State institutions are now looking to expand activities to raise awareness and spread dialogue on the subject of human rights. This is also true of the field of international cooperation. For example, the issue of human rights is expected to receive more emphasis when training diplomats. In addition, the human rights officers in foreign missions could foster exchange between the parties involved locally.
"The issue of human rights is becoming more and more important for people working in both government and business. The National Action Plan on Business and Human Rights should now be implemented swiftly."
Janine Barbier-Neubacher, Manager of the office of Dr Bärbel Kofler, member of the Bundestag and German Federal Government Commissioner for Human Rights Policy and Humanitarian Aid
Other information you may also be interested in: