Tip: Activate javascript to be able to use all functions of our website
Combating climate change with KfW
KfW is supporting the energy turnaround over the next five years with more than EUR 100 billion, making a crucial contribution to restructuring our energy supply.
Our prime objective is to drive a massive expansion in electricity and heat energy generated from renewable energies, including the electricity grids required to transport it. We are also focusing on developing energy storage systems and highly efficient bridging technologies such as gas-fired power stations.
Thanks to KfW's promotional activities, private households, municipalities and public institutions can use energy more efficiently, while companies can push ahead with technological innovations for climate protection. This not only protects the environment, but also safeguards Germany's technological edge, employment and prosperity.
Our sphere of action not only comprises Germany and Europe, but also emerging and developing markets, which are particularly affected by climate change.
Impact of KfW renewable energy programmes in Germany1)
| | | | | |
| --- | --- | --- | --- | --- |
| | 2009 | 2010 | 2011 2) | 2012 |
| Commitment volume (EUR in billions) | 5.3 | 8.9 | 6.3 | 7.1 |
| Investments financed (EUR in billions) | 7.0 | 11.0 | 8.3 | 10.0 |
| Jobs created and secured (for one year) | 41,000 | 52,000 | 56,800 | 73,500 |
| Reduced greenhouse gas emissions (CO2 equivalent) (per year) (in million tonnes) | 3.7 | 4.8 | 5.1 | 6.6 |
| Fossil fuel imports avoided (per year) (EUR in millions) | 310 | 350 | 430 | 460 |
1) Excluding projects financed in other countries. Does not include KfW IPEX-Bank project finance in Germany. 2) For the purpose of comparability, the new KfW offshore wind energy programme introduced in 2011 has been omitted. Source: Centre for Solar Energy and Hydrogen Research, Baden-Württemberg (ZSW) (2010, 2011).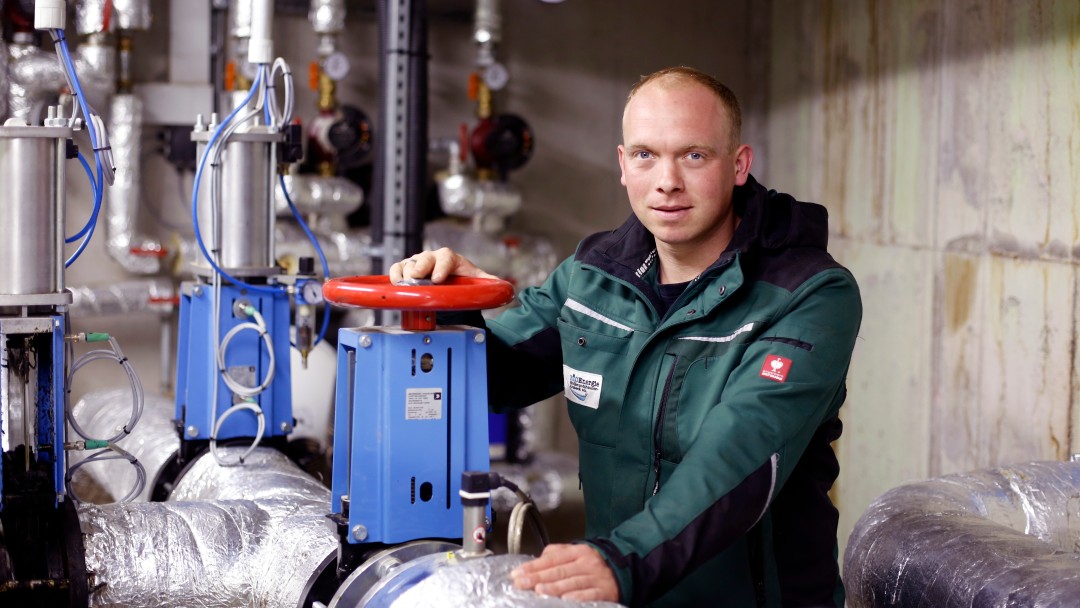 KfW provides tailwind for energy transformation
Wind energy – already the most important renewable energy resource today – is playing a key role in the expansion of renewable energies in Germany thanks to its technical sophistication, low electricity generation costs and huge potential.
With our Renewable Energies - Standard programme we provide low-interest credit and long-term financing for building new wind power stations and modernising existing ones. To speed up development and modernisation, in early 2012 KfW raised the maximum loan amount for the promotion of onshore wind turbines from EUR 10 to 25 million.
Energy transformation underway: wind energy to play key role in future energy supply.
Boost for offshore projects
Few wind turbines have been in operation so far in the German part of the North Sea and Baltic Sea. Armed with the new EUR 5 billion credit programme for project financing, KfW wants to launch the first ten large offshore wind farms in the coming years. This represents a major help for an offshore sector that is still in its infancy. Water depths of more than 20 metres, strong swells and wind make it technologically challenging and expensive to build wind power plants on the high seas. Few banks around the world currently deal with the risk structures of offshore wind farms. Thanks to its programme, KfW is improving the range of financing on offer and therefore speeding up the growth of offshore energy.
Two financing contracts amounting to just under EUR 544 million have already been signed. The Meerwind offshore wind farm off the coast of Helgoland is to supply roughly 360,000 households with electricity from 2013, with the Global Tech I wind farm in the North Sea supplying approximately 445,000 households. Borrowed funds of roughly EUR 1 billion were needed for the latter. "Such sums require broadly-based financing and the integration of promotion programmes", explained Christian Sobotta, offshore expert at Mittelstandsbank (SME finance). The capital was raised by a consortium comprising a total of 16 banks. KfW and its subsidiary KfW IPEX-Bank made a significant contribution of EUR 330 million to the funding.
They also bring crucial skills to the project: KfW Mittelstandsbank – experienced in dealing with large programmes and promoting renewable energies – is responsible for handling the funding programme and representing the project with respect to banks and investors. Thanks to its expertise and sector know-how KfW IPEX-Bank plays a leading role in structuring the financing. In previous years it has been the lead manager in co-structuring five offshore wind farms in Germany and Europe.
Global expansion in renewables
KfW is not only involved in expanding the use of renewable energies in Germany. KfW claims to be the most important international promotion institution in this field, together with the World Bank. In North Africa it finances large-scale solar energy plants for example. In Uganda, the first privately-operated hydropower plant in Sub-Saharan Africa went operational in 2012 with the involvement of KfW Development Bank and DEG. This clean energy increases the supply of electricity in this eastern African developing country by half, thereby paving the way for urgently needed economic growth.
Nevertheless, an extensive supply based on renewable energies can only be achieved in the longer term in many emerging and developing countries. This is why KfW finances the construction and modernisation of highly-efficient coal-fired power plants there to a limited extent, in accordance with the bank's strict requirements (see "Our work" p.10: KfW position paper on coal-fired power plants). The governments and energy suppliers of these countries use coal-fired power plants as bridging technology until a sufficient supply of electricity is available from renewable sources, in order to give poorer parts of the population access to the energy they need. Co-financing from KfW ensures compliance with strict minimum energy efficiency requirements and international standards for environmental and social impacts.
Simply efficient
Using a variety of promotional products, we help home-owners and tenants, municipalities and small and medium-sized enterprises to reduce their energy consumption. Efficiency measures generally pay off economically in the medium-term. They contribute directly to climate protection.
Residential properties alone account for roughly 40% of total energy use in Germany. Two thirds of all residential buildings were constructed before the first ordinance on thermal insulation entered into force in 1977, and are therefore considered old buildings from an energy perspective. The same is true for the majority of the roughly 300,000 buildings of municipal and public infrastructure in Germany. The potential for making improvements in terms of energy is huge.
Energy-efficient construction: the building sector is a source of enormous CO2 potential.
Highly attractive conditions
KfW's promotional products of Energy Efficient Construction and Energy Efficient Refurbishment enable both individuals and municipalities to safely implement energy efficiency measures for buildings during an economic crisis.
In this way, KfW creates incentives and plays a leading role in implementing the German federal government's climate-policy objectives.
Efficiency house as industry standard
With the KfW Efficiency House, KfW established a uniform standard for buildings recognised throughout the real estate sector. A KfW Efficiency House 55, for example, needs only 55% of the primary energy of a new building constructed in accordance with the Energy Saving Ordinance (EnEV) thanks to modern heating technologies based on renewable energies as well as very efficient heat insulation.
41% of all new-build homes in Germany now meet one of the KfW Efficiency House standards.
Easing the renovation backlog
By providing low-interest loans and terms of up to 30 years, we help municipalities alleviate their backlogs for the energy-efficient refurbishment of schools, nurseries or community buildings. According to estimates by the Bremer Energy Institute this will require at least EUR 75 billion by 2020. Additional savings potential is exploited with promotional products for the energy efficiency rehabilitation of town districts and the modernisation of street lighting.
Positive for climate and economy
We regularly evaluate the impact of our promotional products Energy Efficient Construction and Energy Efficient Refurbishment on residential buildings and municipalities. Accordingly, the funds invested in 2011 totalling EUR 6.6 billion reduced the emission of greenhouse gases by 576,800 tonnes per year.
Our promotional activities also impact on the economy and the labour market, triggering investments in 2011 of EUR 18.6 billion. These benefit German SMEs with regional craft businesses and construction companies in particular. Roughly 253,500 jobs were secured here for one year. KfW Chief Economist Dr Jörg Zeuner: "The German federal government also benefits from the increased tax revenue and social security contributions as well as from lower costs of unemployment."
Impact of KfW "Energy Efficient Construction and Refurbishment" programmes
2009
2010
2011
2012 4)
Commitment volume (EUR in billions) - of which federal government funding (EUR in billions)
9.0


2.04
8.9


1.37
6.6 1)


0.93
10.1 1)


1.42
Investments financed (EUR in billions)
18.6
21.5
18.6 1)2)
27.3 1)2)
Housing units financed
617,000
953,000
282,000
358,000
Reduced greenhouse gas emissions (CO2 equivalent) (per year) (in thousand tonnes)
1,212.0
1,039.0
576.8 3)
832
Jobs secured (for one year)
262,000
289,000
253,000
373,000
1)Investments and housing units promoted through global loans were included if the loans were committed and the investment figures were entered in the database. However, global loans were included in full in the commitments. As a result the commitment amounts may be higher than the recorded investments. 2) In cases involving support under several programmes simultaneously, figures are counted twice. 3)Reductions in annual CO2 emissions due to the measures supported in the given year. 4)Preliminary estimate.
Protecting the climate, promoting change
Climate change is a global phenomenon, but its impacts are felt particularly severely in the poorest countries. KfW helps its partner countries reduce their own emissions of greenhouse gases and adapt to the consequences of global warming.
Industrialised countries face a particular challenge here as their prosperity is based on the long-term and intensive use of fossil fuels. If they take responsibility and play a pioneering role with respect to climate protection, this sends an important signal to the world.
Important carbon storage source: preserving tropical forests actively protects our climate
Clean energy and more efficiency
As one of the world's largest financiers of renewable energies, KfW is driving expansion in this field in emerging and developing markets. On behalf of the German federal government, KfW Development Bank helps KfW partner countries to improve the efficiency with which they generate, transmit and distribute energy, and to lower their own consumption by insulating buildings for example, or implementing efficiency measures in industry and transport. KfW supports local companies by providing long-term financing and consulting services via its subsidiary DEG, with a view to conducting business in a more energy-efficient manner and realising investments relevant for climate protection, such as renewable energy power plants.
Forest conservation as active climate protection
Preserving tropical forests is an effective and cost-efficient way of protecting the climate. Turning tropical forests into arable and grazing land is responsible for up to 17% of the greenhouse gases created in the world each year. Yet every tree that is not cleared protects the atmosphere – and also helps to preserve biodiversity. The innovative REDD approach (Reducing Emissions from Deforestation and Forest Degradation) links forest protection with the proceeds from emission reductions, and attributes an economic value to the carbon stored in the forests. In this way, communities dependent on forests and small farmers in developing countries have a financial incentive to actively protect their forests.
Safeguarding water as a resource
Helping developing and emerging markets adjust to climate change in time should not be construed as capitulation. Effective protection against irreversible climate change effects is much more about defusing current or future conflicts regarding food, land and water – and is therefore also in the interests of industrialised countries. KfW has supported climate-related investments in emerging and developing markets for years, and is ramping up its adjustment activities too.
One particular focal point is expanding public infrastructure and ensuring sustainable water supplies. Potable and process water, already scarce in many regions, are becoming ever more costly as a result of climate change. Fluctuations in temperature often have a direct impact on the intensity and distribution of rainfall, and melting glaciers constitute a long-term threat to water supply in adjacent plains. The rising sea level, in turn, poses a risk of salinating groundwater aquifers near the coast. KfW finances integrated resource management in close cooperation with partner countries.
DEG developed an online instrument together with WWF that promotes an understanding for sustainable water resource management in developing and emerging markets. Using this "water risk filter", companies can recognise the risks of their business activities, supplier chains and trading partners in the given catchment areas, and identify tailored solutions. This easy-to-understand instrument has been freely available on the internet since 2012 and is already used extensively.