Tip: Activate javascript to be able to use all functions of our website
Globalisation
Promoting and strengthening entrepreneurial spirit
Small and medium-sized businesses are the highly-valued backbone of the German economy. Not even globalisation has changed this. But it has changed the conditions in which SMEs have to survive.
Our global, networked economy is characterised by high pressure to innovate, by international markets, new cooperation frameworks and competitors as well as open labour markets. The KfW Group as a reliable partner helps small and medium-sized enterprises face these challenges, such as the wind farm specialist Vestas. It finances innovative business ideas, supports investment in modern production facilities and finances projects that enable companies to penetrate international markets. This means the KfW Group helps to strengthen Germany's competitiveness.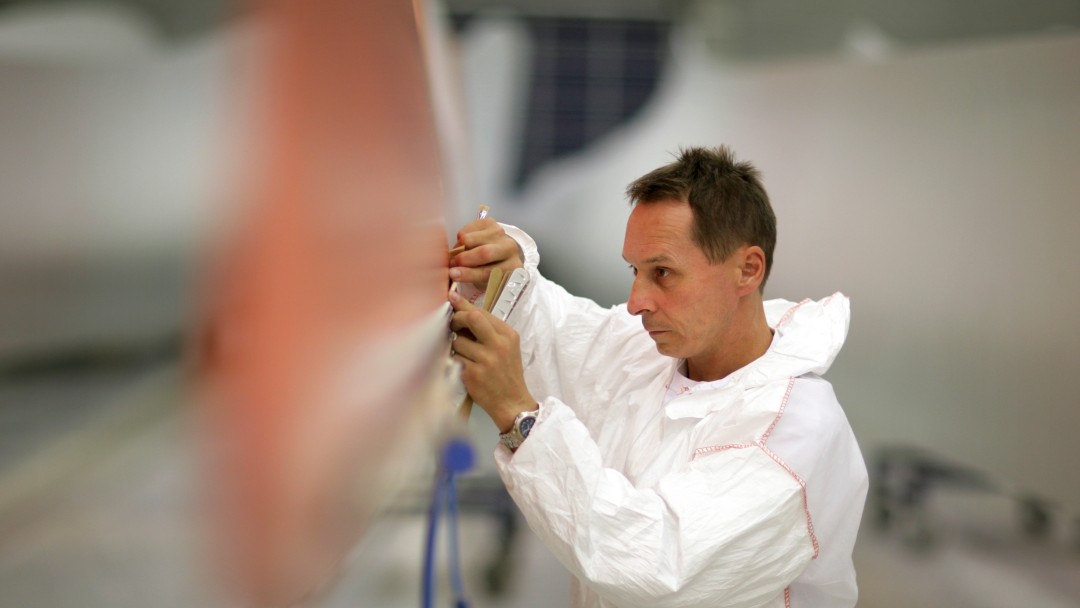 Germany: export country
German companies generate a large part of their sales revenue abroad. As a leading provider of specialist finance for exports, investments and infrastructure, KfW IPEX-Bank supports them in their international endeavours with expertise and tailored financing.
Global trade: German companies exploit global sales markets.
Harnessing the opportunities of globalisation
Whether we are talking about ships, petrochemical facilities or advanced power plant technologies – KfW IPEX-Bank is an important pillar of the German and European export industry. It develops tailored medium and long-term financing solutions for SMEs and large enterprises.
One of the biggest challenges is reconciling the needs of clients for tailored financing with a focus on economic sustainability and a long-term approach. Harnessing the opportunities of globalisation for the German economy is another challenge. In this context, KfW IPEX-Bank finances the customers of German businesses, especially in dynamically growing emerging countries and in difficult markets.
Foreign trade in these countries is a significant driving force for growth and employment. Currently almost half of economic output and one in every four jobs depends on it. German companies have recovered well from a brief setback in exports caused by the global financial and economic crisis. In 2011 they exported goods worth more than EUR 1 trillion – more than ever before.
Demand for high-value products
The main sales markets for German companies are traditionally in Europe – more than 70% of all goods and services exported head to other European countries (see table). Cars and accessories "made in Germany" are particularly in demand – they account for more than one in every six euros that German companies earn outside the country's borders. Other export hits include machinery, chemical products and devices manufactured in the fields of data processing, electronics and optics.
Sales markets of the German economy
Exports in 20111)
in EUR billion
Share of German exports
Change
compared to 2010
Europe
including EU
751.5
627.2
70.9%
59.2%
+11.3%
+9.9%
Africa
20.6
1.9%
+3.1%
America
110.4
10.4%
+11.0%
Asia
including
China
167.5

64.8
15.8%

6.1%
+13.0%

+20.4%
Australia/Oceania
9.4
0.9%
+5.0%
Total
1,060.0
100%
+11.4%
1) Preliminary result; Source: German Federal Statistical Office (2012)
In the destination countries, the mostly high-value export goods contribute to modernisation and prosperity. Moreover, energy-efficient and environmentally friendly technologies from Germany have a positive impact on the climate. In 2009, one third of German environmental products and services were used for exports. According to the latest Federal Research Report, this means Germany holds a global market share of 15%. Over the coming years, all the forecasts suggest that the global markets for renewable energies are set to continue growing – by an estimated 20% until 2020. German companies are likely to benefit significantly from this, even if other countries have made significant progress recently in catching up. Experts reckon that environmental and climate technologies will then number among the strongest industries in Germany in terms of revenue.
Climate protection financing on the up
KfW IPEX-Bank supports the full range of financing for environmental and climate-protection financing: expanding renewable energies with solar technology (see box), onshore and offshore wind parks, infrastructure projects and mobility solutions such as "green" shipping. In 2011 the share of this environmental and climate protection financing in total new commitments amounted to EUR 1.94 billion, of which EUR 784 million related to Germany. With these commitments, KfW IPEX-Bank strengthens the global competitiveness of German companies and makes a significant contribution to safeguarding Germany as a business location and the prosperity of the population.
Staying innovative
Small and medium-sized companies make a significant contribution to sustainability in Germany. Yet they encounter difficulties with financing new products and ideas. KfW is closing this gap with programmes to promote business innovations.
The German innovation system is among the most efficient in the world. That said, Germany has lost ground in recent years in the international arena, and is now only ranked ninth in the list of the most innovative OECD countries (measured in terms of R&D expenditure as a share of GDP).
Germany is still strong in high-tech industries. Alongside mechanical engineering and the chemical industry, the automobile sector in particular enjoys an extremely strong position compared to other OECD countries. However, the fact that cutting-edge technologies such as IT and telecommunications are inadequate in Germany does give cause for concern given the fact that they shape the technologies of tomorrow. Given the rising competition on the global markets as well as the mix of challenges stemming from climate change, scant resources and demographic development, Germany needs to boost its innovation.
Research and development for the future: innovative technologies secure economic power.
Ratio of companies with product or process innovations 2006-2008 (as %)
| | |
| --- | --- |
| Germany | 65 |
| Belgium | 51 |
| Finland | 49 |
| Sweden | 48 |
| Austria | 48 |
| Denmark | 42 |
| Italy | 41 |
| The Netherlands | 39 |
| France | 39 |
Source: Rammer, Pesau (2011), Innovation of businesses in Germany, 2008, Studies on the German innovation system.
Research-intensive economy
The innovator rate – i.e. the share of companies in the economy as a whole that introduce new products or processes – is higher in Germany than in any European country. Roughly one quarter of spending on innovation stems from companies with fewer than 500 employees. This confirms the important role of small and medium-sized enterprises (SME) in the German innovation system – and likewise as technology manufacturers, suppliers and exporters.
Young innovative companies are often first to seize on new technological know-how generated outside the corporate sector and turn it into marketable products. Established SMEs disseminate technologies widely with their innovation activities – and in doing so contribute to the competitiveness of the German economy. The ratio of SMEs producing innovations, however, has fallen compared to the mid-1990s.
Financing is crucial for improving the innovative capabilities of small and medium-sized companies. An evaluation carried out by the KfW SME Panel in 2009 shows that SMEs finance 71% of their developments using their own funds, but with investments this figure is just 48%. SMEs' strong dependency on their own capital means that companies adapt their innovation activities to the current economic circumstances – and potentially never even embark on long-term development plans. It is our task to prevent the negative impact on innovation activity this produces.
Inventions registered in 2009 at the European Patent Office or at the World Intellectual Property Organisation (WIPO) (per million inhabitants)
| | |
| --- | --- |
| Sweden | 397 |
| Finland | 371 |
| Germany | 368 |
| Japan | 250 |
| France | 179 |
| USA | 166 |
| EU | 147 |
| United Kingdom | 133 |
| Canada | 119 |
| Italy | 95 |
Source: German Federal Report on Research & Innovation (2012).
Key role for KfW
KfW's equity finance products target technology companies at various stages of their development. At the very early stage, which is known as the seed phase, KfW has since 2005 been involved in High-Tech Gruenderfonds (HTGF), Germany's largest and most active early-stage financier. KfW is the largest investor in HTGF after the Federal Government:
Since April 2015 KfW has also started to help meet the shortfall in follow-on and expansion financing available to young, innovative technology companies. It is just businesses like these — hi-tech companies working in the areas of clean technology, life sciences and med-tech, as well as e-commerce platforms and other "digital" start-ups — which need a substantial amount of capital to enable them to develop and grow. To support them in this process, KfW, in collaboration with the Federal Ministry for Economic Affairs and Energy (BMWi), has brought a new promotional instrument onto the market, the ERP Venture Capital Fund. KfW is using this instrument to invest in young German technology companies indirectly, via selected German and European venture capital funds.
This approach allows KfW to access the expertise available on the venture capital market and simultaneously use its position as a national promotional bank to mobilise private capital. In order to strengthen the German venture capital market even further, KfW and the Federal Ministry of Economics and Technology launched Coparion, a co-investment fund in March 2016. As a separate company led by an experienced management team, Coparion invests directly in innovative start-ups and young technology companies. The fund thus replaces the new business of the ERP Start-up Fund, which has carried out this business from within KfW until now.
KfW also supports innovations with the "ERP Digitalisation and Innovation Loan". Established companies which have been on the market for longer than two years are offered a long-term financing package with low interest rates. This comprises a debt tranche at the risk of the company's main bank, and an uncollateralised subordinated tranche with KfW bearing the full risk, up to EUR 5 million per project. If the project supports energy transformation objectives, the bank is willing to provide up to EUR 25 million per project. Companies can use this to finance any and all costs which arise in connection with the market-oriented research and development of new products, processes or services, be they for advisory, IT, HR, patents or carrying out tests. Once the innovation is ready for the market, KfW can also help with its market roll-out – likewise via the ERP Innovation Programme.
Use of capital based on intensity of business R&D expenses (share of innovation expenses as %)
Own funds
Bank loans
Promotional
fundings
Other
No R&D
67
22
3
8
Less than 2.5%
77
10
4
9

2.5 to 7%
86
6
4
4
7% or more
68
6
12
14
Total
71
12
7
10
Source: KfW SME Panel (2009).
New markets for SMEs
In the search for new sales markets, an increasing number of German companies are heading into dynamically growing emerging and developing countries. DEG supports them with long-term financing and in-depth knowledge of local conditions.
German businesses have massive potential in developing countries. Some of the markets are very big, as is the demand for various goods and services. The expansion of regional infrastructure also holds out the prospect of significant contracts. German companies have already found well-qualified workforces in many places, which is a crucial requirement for developing local business locations.
Technology in demand: emerging and developing countries are backing German wind energy too.
Identifying local risks
But at the same time, investments in emerging and developing countries entail risks too. To assess these risks, companies have to take a close look at legal, economic and political conditions in the countries in question as early as the planning phase. It is important to be very familiar with cultural practices in the destination country, and have local contacts. Moreover, as with all foreign investment, if you want to enjoy long-term success you need staying-power as well as sufficient human and financial resources.
With a competent partner to support them, SMEs in particular can make good assessments of the potential risks, avoid making wrong decisions and share the financial risks.
For 50 years now, DEG has been supporting German and foreign companies that want to invest in emerging and developing markets, helping not just with financing their projects but also with planning and implementation. In this context, DEG focuses on supporting small and medium-sized enterprises as they still do not often have adequate access to long-term financing.
Over 100 German SMEs, especially those in manufacturing, were helped by DEG in 2011 alone with investments in countries such as China, El Salvador and Uruguay. KfW's subsidiary uses its own funds to provide risk capital in the form of equity investments or mezzanine financing. DEG also provides loans and guarantees at market conditions. This is subject to the project being economically viable, environmentally and socially acceptable, and having a positive, long-term impact on development in the country. Using federal funds, DEG also supports companies with preparatory measures by sharing the costs of a feasibility study for example, or promoting a pilot project.
The funding provided by DEG makes a significant contribution to mobilising additional investment by businesses and investors. As revealed by an internal assessment, new financing of roughly EUR 1.2 billion pledged in 2011 triggered total investments of more than EUR 6.8 billion (see chart). Approximately 63% of the promoted projects contributed directly to achieving at least one UN Millennium Development goal (see box on p.45). Many of the co-financed companies are also meeting their corporate social responsibilities by paying above-average salaries, providing social benefits for their staff or setting up healthcare stations.
Providing access to risk capital
In emerging and developing countries, DEG also gives SMEs access to much-sought-after risk capital. Equity investments and mezzanine financing have barely been options there so far. DEG provides this financing to enterprises both directly and indirectly through financial intermediaries. Almost EUR 510 million in risk capital was granted in the 2011 financial year. This included around 30 equity investments in companies which, for example, construct and operate wind farms or hydroelectric power plants.
When making equity investments, DEG generally always opts for non-controlling interests, said Bruno Wenn, Chairman of the DEG Management Board: "We want the business people to take the leading role and turn their company into a stable and successful player in their country's economy." As an equity investor, DEG assumes certain risks, advises and supports them on this journey.
Developmental impacts of DEG funding, 2009–2012
2009
2010
2011
2012
DEG commitment volume (EUR in billions)
1.0
1.2
1.2
1.3

Total investment (EUR in billions)
4.6
7.8
6.8
12.1

Development policy rating (derived from DEG´s business policy rating)
2.4
2.6
2.4
2.0

Total jobs created and secured (expected) - including: new jobs created
360,000




15,0000
237,000




11,000
238,000




18,000
435,000




22,000
National revenue (per year, expected) (EUR in millions)
570
490
790
827
Net foreign exchange (per year, expected) (EUR in millions)
1,700
2,700
690
4,102
Source: DEG.