Tip: Activate javascript to be able to use all functions of our website
Record at the Capital Markets
Since almost 30 years we have got excellent access to the world's largest capital market: the United States.
Petra Wehlert
Head of Capital Markets
Investor Relations
Information on KfW's refinancing activities for U.S. Investors
KfW is one of the most active, high-volume issuers of bonds and notes worldwide on the international capital markets with an annual issuance volume equivalent to an average of EUR 60-80 billion. Since 1987, KfW has been active in the U.S. capital market and has debt securities registered with the United States Securities and Exchange Commission (the "SEC") under Schedule B of the U.S. Securities Act of 1933 applicable to foreign governments and political subdivisions thereof.
SEC registration
In connection with the registration of its debt securities in the United States, KfW files various documents with the SEC, including voluntary filings on Form 18-K, prospectuses relating to its debt securities and free writing prospectuses.
"Green Bonds - Made by KfW"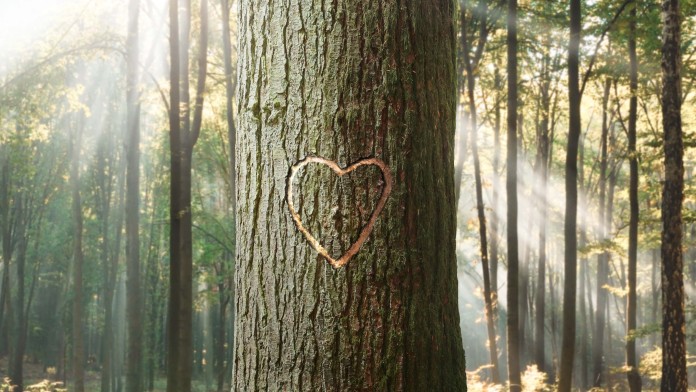 KfW has been issuing green bonds since mid-2014, including USD-denominated issuances registered with the SEC under its global debt programme. This gives investors the option to specifically combine the security and liquidity typical for KfW bonds with the promotion of environmental and climate protection.
This presentation contains comprehensive information about KfW Green Bonds - e.g., the process, use of proceeds and impact - as well as details on KfW's activities regarding its overall sustainability strategy.
Characteristics of Green Bonds - Made by KfW:
Green Bonds with external evaluation of environmental and social impact
Impacts per million Euros invested:1)
- GHG reduction of 800 tons per year over the projects' life cycle
- 17 jobs created or secured for one year
- EUR 40,000 p.a. energy imports to Germany or fossil burning costs avoided
- EUR 80,000 p.a. of savings in external costs: e.g. by avoiding environmental and health damage
KfW is among the best ESG2) rated institutions
High credibility through the independent 2nd opinion by CICERO for KfW's green bond process: KfW green bonds achieved the best grade ("dark green")

(Second Opinion by CICERO)

Investors invest in green projects, without bearing any project risks
Value for money: excellent credit quality, large size, attractive yield, regular issuance intended
The volume-weighted average maturity of "Green Bonds – Made by KfW" of each calendar year will not exceed the respective prior year's average duration of loan commitments under the "Renewable Energies – Standard" programme
1) Average value for 2012-2016 based on ZSW evaluation and internal calculations; Numbers relate exclusively to KfW's financing share; Current and future impact might be different.
2) Environmental, social and governance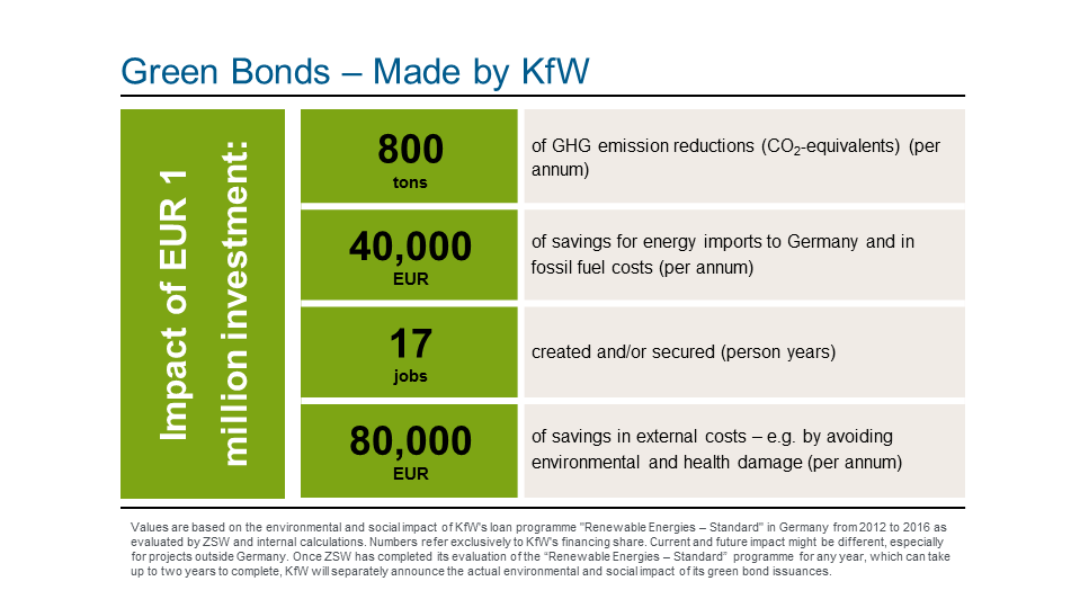 Green Bond Reporting
Latest Publications
| Reporting: | Released in: |
| --- | --- |
| Management of Proceeds | Not applicable, as no SEC registered green bonds was issued in 2018. |
| Environmental and Social Impact | July 2018 |
All Green Bond Reportings
Further information on "Green Bonds - Made by KfW"
List of "Green Bonds - Made by KfW" registered with the SEC