Tip: Activate javascript to be able to use all functions of our website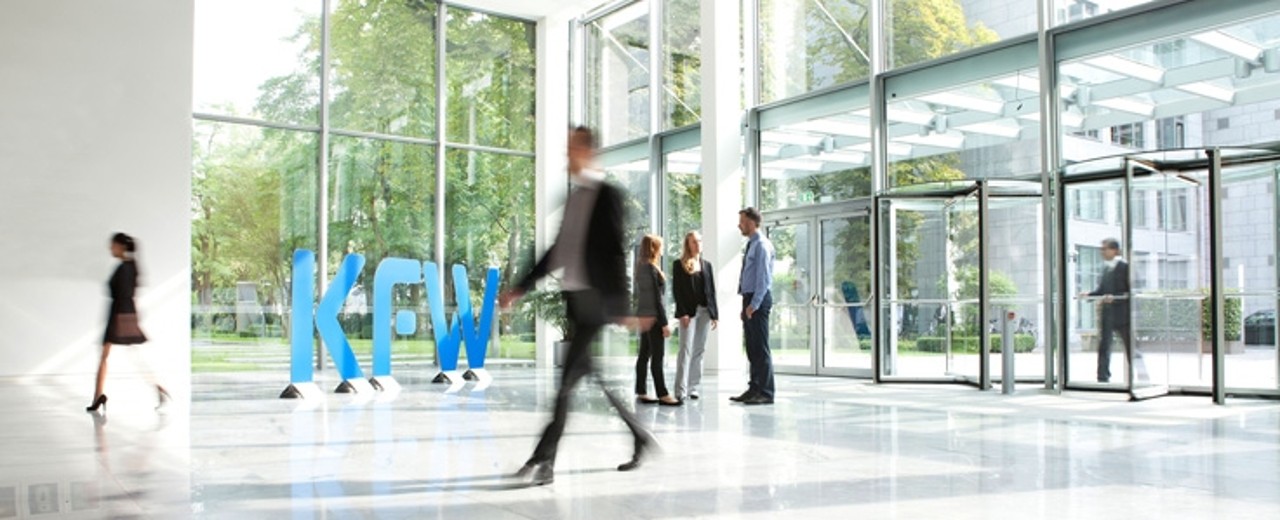 Today's KfW – Responsible Banking
Since 1948, KfW has been financing and promoting sustainable changes in the economy, society and the environment, both in Germany and abroad. It is our statutory mandate to encourage development and progress. This profile sets us apart from other banks. We want our customers and partners to know exactly what KfW stands for, what services it provides them and what advantages they derive from these. This is why we have sharpened our public profile: "Responsible Banking" is KfW's claim. It is a verbal identifier which clarifies our positioning and social mission. Find out here which values form the foundation of our commitment to responsibility!
We have been financing lasting economic, social and environmental change in Germany and abroad since 1948. As a bank owned by the Federal Republic of Germany we have the statutory mission to promote development and progress. This is the basis of our activity. Germany's outstanding credit rating enables KfW to fund its operations on favourable terms through the international capital markets.
We take a forward-looking approach to the big issues and developments of our time. These issues are climate change and environmental protection, globalisation and technical progress as well as demographic trends. With a long-term perspective, we design reliable and responsible solutions and products that are useful for economic, social and ecological development. We recognise global implications and devote ourselves to bringing about positive change for the generations of tomorrow.
Enterprises, retail customers and municipalities in Germany benefit from our promotional programmes for small and medium-sized enterprises, business founders, homeowners, basic and advanced training and education, municipal and social infrastructure and environmental and climate protection. We also accompany German and European enterprises on global markets. We create conditions and opportunities in developing and emerging economies for their successful development.
We have comprehensive expertise in the design of targeted and customer-oriented (financing) offers that advance both individuals and society. Many of our solutions set standards across sectors and are benchmarks for industries, such as in the area of energy efficiency. Customers can rely on KfW and its solutions. We are their long-term partner and take risks even in difficult times.
Our operations as a bank follow clear values. They define our corporate culture, which is characterised by the will to perform, identification with our enterprise and our mission, trustful cooperation and mutual appreciation. KfW's values and culture are the foundation of our responsibility to customers, employees, sales partners, public clients, investors and the public.
With our financings we achieve measurable economic benefit for people, businesses and countries. We focus not only on short-term success but primarily on long-term impacts. Our offerings are guided by the interests of society, the needs of our customers and our objectives. KfW's profits form the basis for the development of the bank and for our promotional contribution.